A weekend City trip to Istanbul is easy if you live in Europe. If you live on another continent, it's easy to plan a short city trip to Istanbul while traveling through Europe. Istanbul is a beautiful city with many historical places.
We are living already more then four years in Istanbul, so many friends ask us what is the minimum time I need to plan to stay in Istanbul? Either before continuing traveling though Turkey or returning back to home.
Istanbul is a big metropolitan city with many historical en cultural locations to visit. Having a personal tour guide and/or making long days, you could definitely see the highlights of Istanbul in 4 days.
We are happy to give you some suggestions if you decide to venture out on your own thought this magnificent city. Let the city take you in and you might never want to leave again!
What Is the Best Time for Your Short City Trip to Istanbul?
During spring and the autumn the temperatures are pleasant in Istanbul, around 20-25 degrees Celsius. You don't need a coat, just light clothes with long sleeves for the evenings.
Comfortable shoes are something you need all year around because you will do a lot of walking and besides the distances to cover, Istanbul is very hilly. Touristic places are open all year around, summer time they are in general just one hour longer open though.
Are you a fervent user of Uber everywhere you go? But can you use Uber in Istanbul and the rest of Turkey?
In summer it is very busy, hot and you will find a huge que at every touristic place. If you visit outside the holiday season, most likely you are able to see everything that is on your to do list.
We recommend to buy tickets to the places you want to visit during your stay so that you can avoid the long rows. Knowing these facts, what are the places you must see during your short Istanbul city trip?
4 Day Travel Guide for Istanbul
Lets take you though a four day tour of istanbul day by day, to make sure you won't miss a thing during your short stay in Istanbul.
Day 1:
Istanbul Airport is an international airport, flights from all over the world arrive there. It is very easy to reach the center of town from the airport.
You can find our description how to reach the Istanbul center from the airport here. To save valuable time, it is best to book a hotel near the city center. Most of the hotels are in the vicinity of touristic places.
Most flights to turkey arrive around midday, so most will not be at their hotel before 3PM, we recommend to take some time to discover en enjoy the local area around your hotel.
If there is a Hamam in the area, today is the day to visit and experience that. Or book one in advance at the Cemberlitas Hamami in Sultanahmet. If you want to be sure to have your hamam, book it here in advance:
After the hamam scroll the local area and pick a restaurant, we love the small local restaurants, You will probably be able to find in your area, and don't forget to try the Turkish tea at the end of your meal!
Day 2:
The next day you are all sharp again, full of energy after a nice massage and bath of the previous day. Today you could visit the Grand Bazar and the Egyptian Spice Bazar.
These are also relatively close to each other. After visiting these places and spending some money on gifts, walk across the famous Galata bridge.
This is the bridge where all the local fisherman fish. You walk towards the Galata tower and you could visit this place to have an amazing view over the Bosporus and Golden Horn.
After seeing this beautiful scenery, there is some shopping time left since Istiklal Cadessi is close by. This street has many well-known shops but also nice historical buildings in between.
It ends in Taksim Square, where you could find some restaurants to have diner. Either Turkish or European restaurants. Don't forget to try one of the 13 best Turkish desserts to finish off your Turkish diner!
More great things to do in Turkey? Continue reading on our site:
Day 3:
Get up early and watch how the sun starts to fall on the beautiful Topkapi Palace. Get to the Fourth Courtyard first and see how the sun rises onto the Topkapi Palace.
After enjoying the gardens, terraces and amazing view over the Bosporus walk slowly back to the entrance of the Topkapi Palace. Try to see as much as you can on your way back out.
Since you only have a few days in Istanbul, you can't spend a lot of time here, but it is definitely worth visiting! And feel free to extend your stay here at the palace and reduce some time from the rest of the day.
When you are finished at the Topkapi Palace, you are probably hungry and are looking for a place for breakfast. If you haven't tried or heard of Turkish breakfast before, this is the time to try is. You will enjoy the slow pace of the Breakfast/Brunch type of meal to energize you for the rest of the day.
After visiting the Topkapi Palace you can walk towards the Hagia Sophia. The Hagia Sophia used to be a museum and you would have to pay to get in, but since 2020 the museum has been converted back into a working mosque.
So the entrance is free, but you need to be outside the prayer times. Because the mosque is closed to visitors during prayer.
Try to visit both the Hagia Sophia as the Blue Mosque before lunch so that you have time for another adventure!
You have seen quite a bit from Istanbul, but you haven't been on the water. You have two options. Take the ferry to the Asian side of Istanbul or consider the Bosporus tour (our favorite!).
The ferry to the Asian side takes about 15-30 minutes. It brings you either to Uskudar or Kadikoy both worth a visit!
But if you prefer to stay a bit longer on the water, you might want to do the Bosporus tour. The tour takes about 2,5 hours and you have a nice view over Istanbul: the European side, as well as the Asian side.
Try to pick a clear day to explore the Bosporus to get the most astounding pictures.
If you decide to take the ferry to the Asian side, please plan to spend some time in the area that your ferry is taking you.
Uskudar and Kadikoy not only have a nice city center to explore, it is also very pleasant to walk along the sea shore. In Uskusdar you will see the famous Maiden Tower in the Bosporus.
This is now a restaurant, and if you want to eat here you have to make a reservation a few weeks in advance. You can do that on their website: www.kizkulesi.com.tr/Home
This side of Istanbul might feel a bit less hectic than the European side. The area is a very laid back area, with a lot of nice cafe's and restaurants.
Choose one of the restaurants on the waterfront and enjoy the sunset over the beautiful Sultanahmet area on the other side of the bosporus.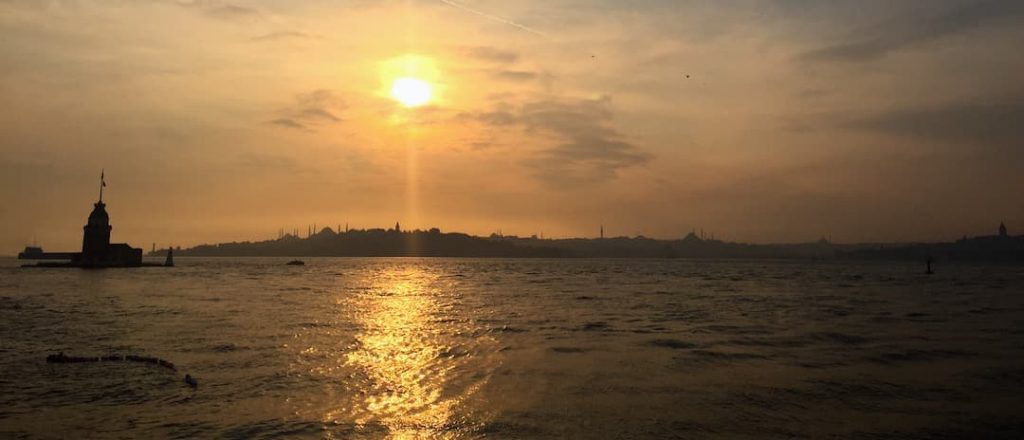 Day 4:
Another highlight to see during your visit of istanbul is one of the underground cisterns.
If you want you can visit the most famous one, the Basilica Cistern, its close to the Hagia Sophia, but we recommend to take a guide to fully enjoy the experience and history of the place.
If you like to visit a underground cistern on a budget, then we recommend to visit a free cistern not to far from the Grand Bazaar. This is the location in Google Maps. It is called the Theodosius Cistern, and was opened in 2019.
This extra day you can also spend in Istanbul visiting a local market. Every day of the week there are local markets, but every day located on a different location.
You can buy fruits, vegetable, clothes and different items for your home. If you like to experience what locals experience, it might be worth it to find out where the nearest local market is stationed during your visit.
Don't you want to miss a thing in Istanbul, and get the most out of your short trip to Istanbul, we recommend to book a private tour!
These are including transportation and you can tour around with you private group to not miss a thing about Istanbul, and enjoy the company of your friends.