We have rounded up 13 of the best Turkish desserts that we recommend tasting at any opportunity you might have. Whether it be in Turkey, or at a Turkish restaurant or family gathering.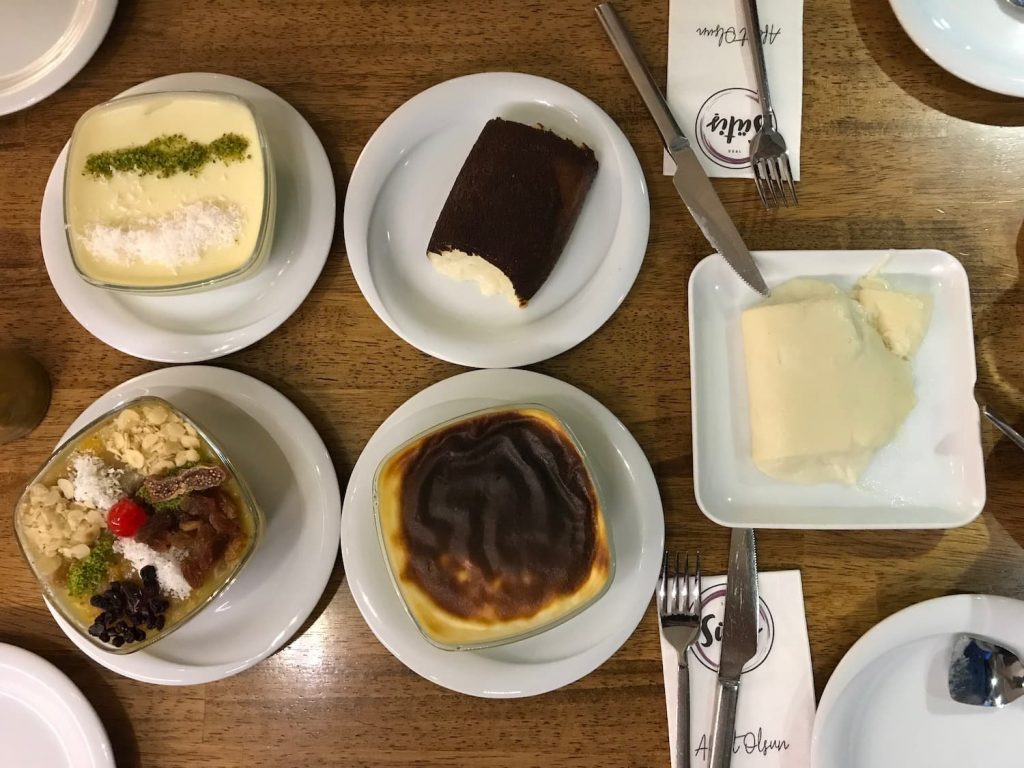 This is by no means a comprehensive list, nor does the writer take any responsibility for weight gain or sugar rushes brought on by the consumption of these delicious sweets.
Baklava
Lokum (Turkish Delight)
Tavuk Göğsü (Chicken Breast Dessert)
Gum Mastic Ice Cream
Künefe
Aşure (Noah's Pudding)
Kabak Tatlısı (Pumpkin Dessert)
Lokma
Dondurmalı irmik helvası
Kazandibi
Rose Lokum pudding
Mastic pudding- damla sakızlı muhallebi
Güllaç
Try them all and choose your favorite Turkish dessert!
1. Baklava
For a lot of people in the world, this one needs no explanation. Baklava is a favorite sweet treat across the Middle East and the Balkans. Thin phyllo dough is layered with nuts like walnuts or pistachios, dosed in a generous amount of butter, baked until crispy, then drenched in sugary syrup, and left to steep.
It's generally accepted that the first form of baklava came from the Assyrian empire, around 800 BC, though as soon as you taste it, you probably won't care anymore. History, culture, and civilization might be replaced by pleasure and the tingling in your taste buds.
2. Lokum (Turkish Delight)
The origins of Turkish Delight are unsure, though it is widely believed to have been invented in Istanbul in the 1700s. At this time, a man known as Haci Bekir was working as a confectioner making a variety of Turkish sweets. Whether by accident or design, Haci Bekir happened upon a method for boiling starch and sugar into a compound that did not harden completely but instead remained chewy.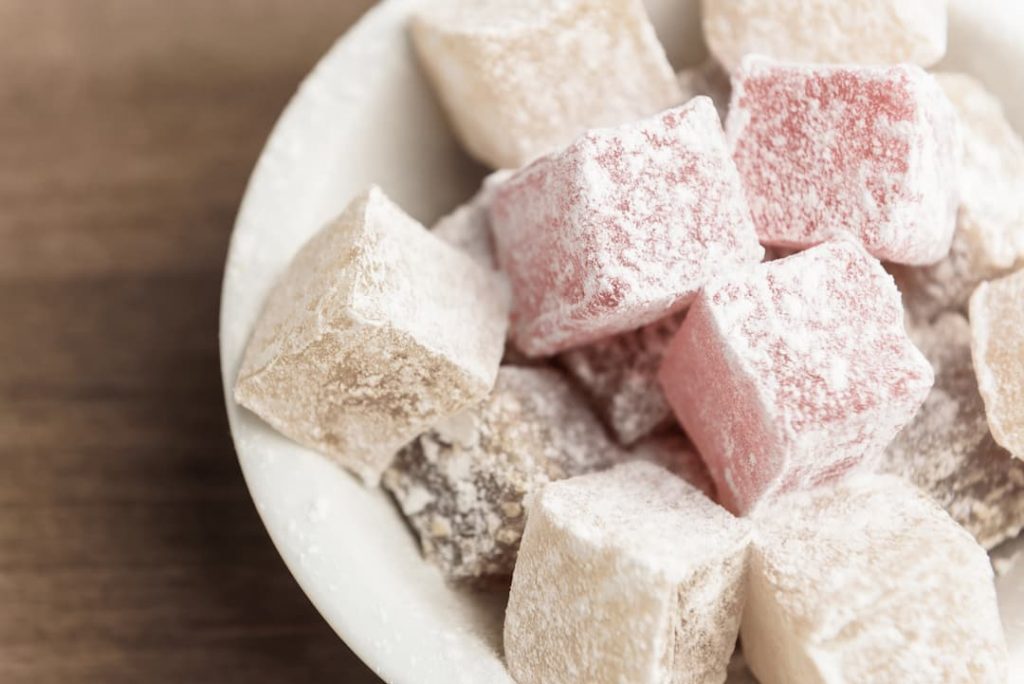 This chewy starch and sugar mixture forms the base of all kinds of Turkish Delight, just knead a few other ingredients into the batter to change the flavor completely.
When and how would you expect to see Turkish Delight served? The most common use for lokum is as a sweet counter flavor to the bitterness of black Turkish Coffee. When invited to drink a coffee after a meal, or with a family member on a house visit, do not be surprised to see a few cubes of Turkish Delight served in a small dish alongside the coffee.
Do you want to know more about this dessert? We have an article only about this very Turkish sweet!
3. Tavuk Göğsü (Chicken Breast Dessert)
There is not really any good English name for this dish. Chicken Pudding? White Dish? It does not matter what you call it. When your mouth is full of Turkish desserts you won't be able to talk anyway.
This dish traditionally really does contain chicken meat, which is boiled then shredded or mashed into a fine consistency then thickened with cinnamon pudding. Modern versions are often imitations, containing no meat, but higher-end restaurants especially in Istanbul do still serve the real deal.
A somewhat chewy, milky sweet baby-food-like pudding, it's not for everyone, but it is a cultural tradition and a signature dish of Turkey.
4. Gum Mastic Ice Cream
This one is special, and it's a real occasion if you get to try the authentic version. From the city of Kahraman Maraş, this ice cream is made by mixing powdered orchid root and goat's milk for many hours, until the mixture forms a gummy texture.
The mixture is then sweetened and frozen. Because of its unique characteristic, even when the ice cream warms up, it does not melt but instead stays a thick consistency. The most authentic flavor is with gum mastic from the island of Chios, but many other flavors are produced and sold in Turkey.
5. Künefe
Not Turkish, this one is another Arabic flavor, enjoyed extensively throughout Turkey. Shredded wheat is placed atop a mound of meltable cheese, then grilled over charcoals and spooned with sugar syrup, until the cheese melts and becomes just a bit crispy at the bottom, and the wheat shreds just start to get crunchy on top.
Sweet and savory and salty and so good. Some may try to add extras to this one, like ice cream or clotted cream. Don't let them. It's perfect as it is.
6. Aşure (Noah's Pudding)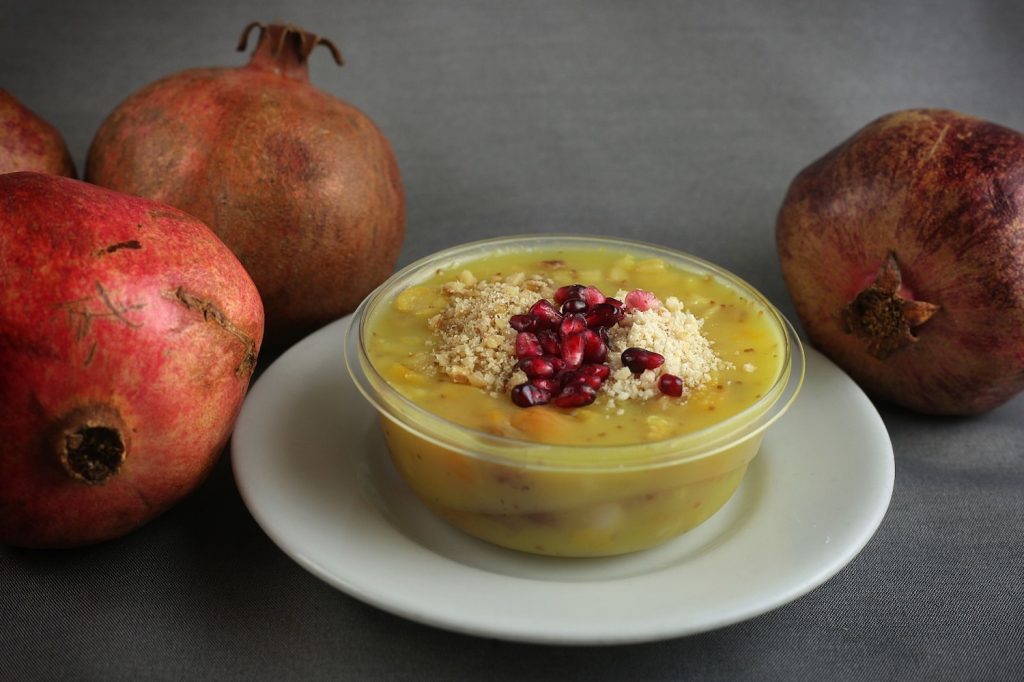 So you want to use up all the leftover dry legumes in your larder, but you want to make dessert? Why not boil them with sugar and dried fruit? That would be Noah's Pudding, or Aşure, in Turkish.
A winter dish packed with vitamins and carbs, it is usually made in huge batches and distributed to neighbors or family in small bowls. It might take some getting used to, but it really is good, and it might even be the healthiest thing on this list.
Pro tip: don't return the bowl empty after you have eaten the pudding. It is traditional to offer a small token, even just a chocolate or a flower, in the dish when you return it to its owner.
7. Kabak Tatlısı (Pumpkin Dessert)
It is simple, but it's good. Boiled pumpkin chunks are soaked in sugar syrup and served along with clotted cream and crushed nuts. The sweet vegetable, the fatty cream, and the crunchy salty nuts just do something wonderful together.
Simplicity and purity in dessert form.
8. Lokma
Lokma are donuts. Ok, they are not donuts. They are donut holes. They are small balls of batter fried in oil and then, you guessed it, doused in sugar syrup. When they are served hot out of the fryer, they are crunchy and sweet balls of fun. When they get cold, they get chewy and less decadent. If you see a tent handing out free Lokma, get in line and get yourself some. Accepting this offering makes the donor proud.
9. Dondurmalı irmik helvası
This is a delicious treat if you love ice-cream and Semolina Halva. Home made it might look like the picture below, but when you order it in a restaurant it looks more like a little cake that is filled with ice-cream.
The shell or topping is made of semolina mixed with whole milk, sugar and butter to get a delicious sweet taste. The semolina will give it an extra texture and when it's perfectly presented the outside is still warm, with the soft ice-cream in the center.
Often the dessert is topped off with raisins or pistachio flakes to give it an extra flavor texture. If you come across this delicious dessert on a menu make sure you try it!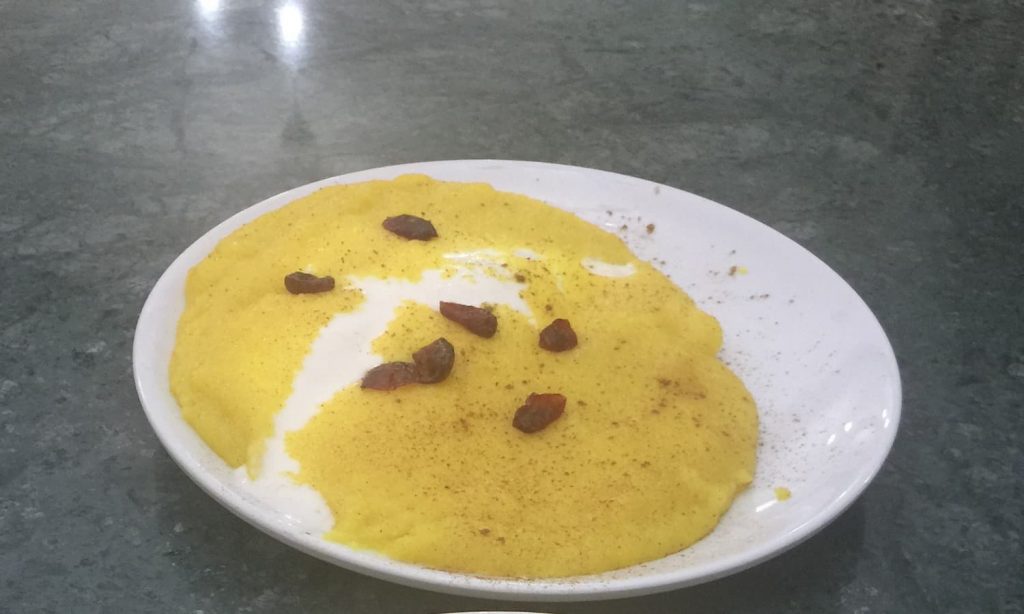 10. Kazandibi
Burned milk pudding doesn't sound so appetizing, but what if we would call it caramelized milk pudding? That is exactly what Kazanbibi is. It is the same dessert as #3 Tavuk Göğsü but this one comes from the bottom of the pan.
The caramelized outer layer will give it a different flavor from the Tavuk Göğsü desert, that is why we made sure to mention it here separately!
This milk-based dessert is a favorite among young and old though-out Turkey, so try to find a restaurant that is specialized in milk-based deserts and make sure to try this one too, maybe with a cup of Turkish tea.
11. Rose Lokum pudding
The name of the dessert kind of gives it away. This Turkish dessert is made of Lokum, the pink one to be exact!
Just as tasty as the Lokum cubes but a little bit more fluffy in the form of a pudding. A real nice treat for those with a sweet tooth.
This dessert is a little bit harder to find in restaurants, but if you find the place that specializes in Turkish desserts, you will be able to find and try this interesting twist of Lokum.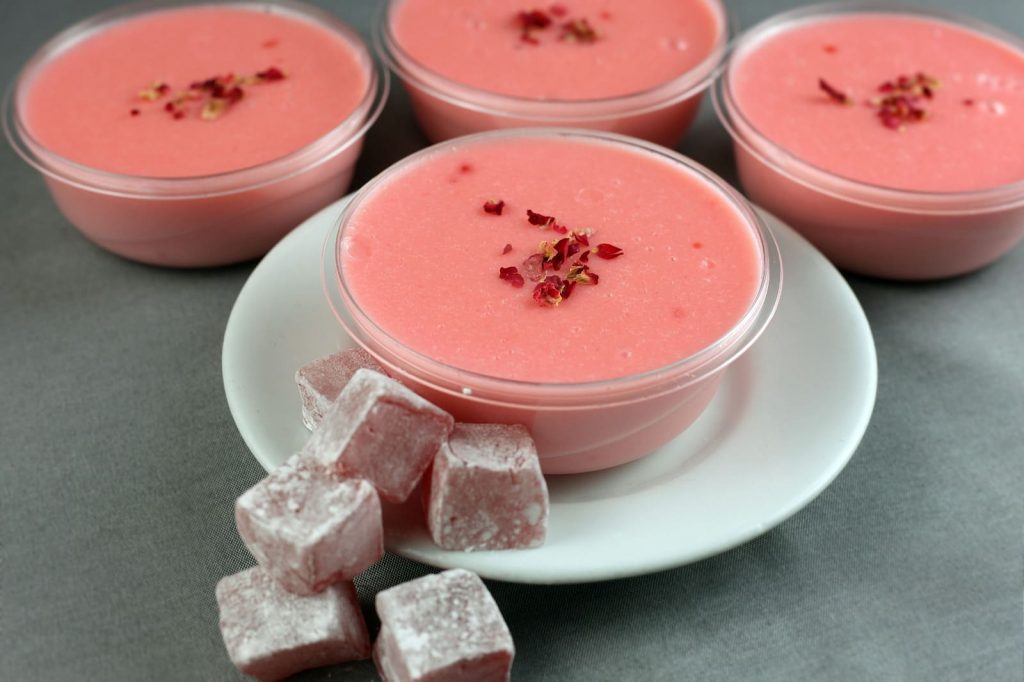 12. Mastic pudding- damla sakızlı muhallebi
This pudding is made with Mastic which gives it a refreshing flavor. Mastic is a dried tree sap that is commonly used in many Turkish deserts, with the most commonly known Gum Mastic ice-cream variant.
The combination of flour, milk, sugar, butter, mastic, and a hint of vanilla is what makes this dessert special. Definetly worth a try when you get the chance!
13. Güllaç
Often eaten during Ramadan because it's easy to prepare and a light dessert in comparison to the others above. So if you are looking for a light Turkish dessert to finish off your Turkish diner banquet, this is the one to aim for!
This Turkish dessert looks like lasagna in the way it is build up. But the layers are not made of dough, but of starch, water, and condensed milk. Between the layers crushed nuts or pomegranate is placed to give it the taste you like.
But because it's a special food for the ramadan time it might be hard to find it during other months of the year. Is it on the menu in the restaurant you are in, make sure to take a bite.
Where can I find the best Turkish deserts?
Often you can find some desserts in the restaurant where you are eating you meal. But many Turks prefer to go to a specialized place to get there dessert, this can be a place that is specialized in milk-based desserts or a place that specializes in baked sweets, like baklava or künefe.
We are lucky enough to have a special shop very close to us that specializes in milk-based desserts since 1965. It's the favorite local dessert place for many Turks in the Sisli area (Very close to Taksim).
Make sure to visit Göreme Muhallebicisi restaurant when you are in Istanbul to try the delicious milky desserts.