You are considering to have your honeymoon in Turkey. Your honeymoon should be, like your wedding day, an unforgettable memory. That's why you should pick the right destination. There are many options, also regarding the budget. We would like to share a fantastic honeymoon idea for in Turkey. For a reasonable price and a romantic and relaxing honeymoon, Fethiye's Turquoise coast is a beautiful and serene destination.
Fethiye has everything you are looking for in a honeymoon destination. Crystal clear waters, plenty of diving and boating opportunities, beautiful resorts or cozy unique accommodation, plus pine forests, hang gliding, and ancient relics.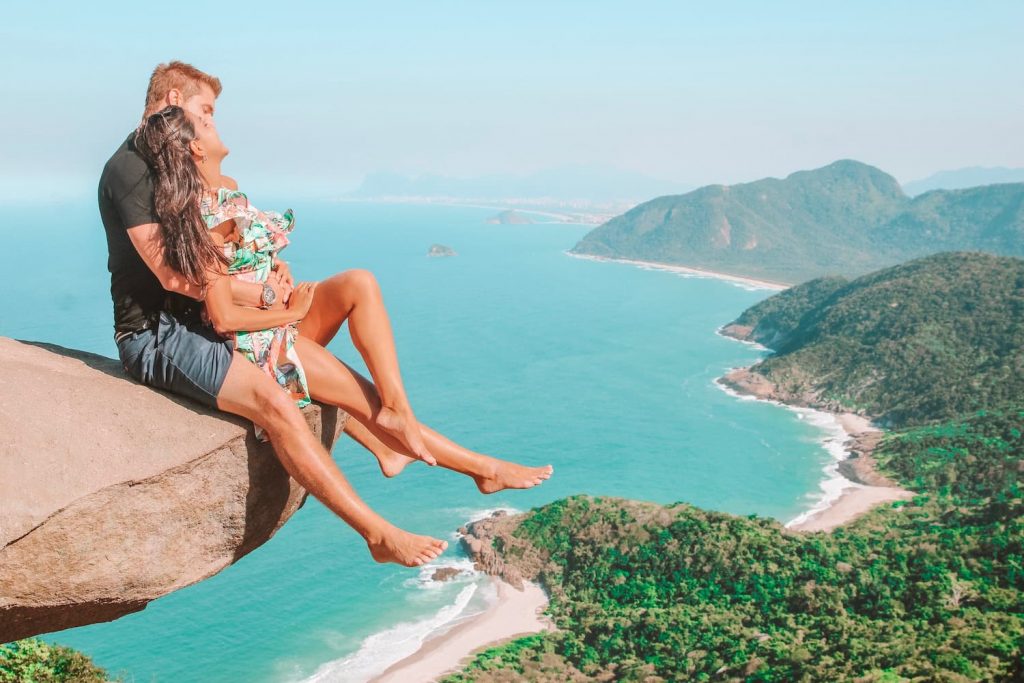 Whether you are looking for an outdoor adventure or just a quiet day in the Turkish sunshine, Fethiye has it all. The Gulf of Fethiye boasts perfectly clear waters in the Mediterranean Sea, hundreds of restaurants serving both Turkish and international food, every type of hotel or homestay, proximity to the Greek island of Rhodes, hiking trails, Butterfly Valley, and the world-famous Blue Lagoon.
Boating, Sailing, and Diving in Fethiye
Take a water taxi from Ölüdeniz to Butterfly Valley, there are two departures every day, and the ticket is inexpensive. Once you get to the Valley, there are a few beach restaurants and even some basic accommodation. The clean sand and clear waters make for a perfect and secluded day at the beach. There are other larger boats which offer music parties, BBQs and a variety of water sports as well.
Book a boat tour from Kaş marina to the sunken city at Kekova. This is a whole day trip and will start with a bus ride to the small city of Kaş. From there the boat will cruise to the ancient city at Kekova. As you float over the city, you will see the remains of ancient buildings of a city that has sunk into the sea over time.
Take a boat trip to the Greek city of Rhodes. Just 2.5 hours ferry ride from Fethiye, you can make a day trip or an overnight adventure to the Greek island of Rhodes, called Rodos in Turkish.
Book a couples diving tour, to explore the regions from the fish's perspective. Several charter companies offer unique diving opportunities around the Gulf of Fethiye. Sea turtles are a common sight, as are dolphins. SCUBA or snorkeling trips are available.
Restaurants and Nightlife in Fethiye
Fethiye is a spread-out region and has a few different villages, settlements, and communities sprinkled about along the coast. The old town of Paspatur is a lovely shopping experience, with traditional-style shops lining the alleyways selling handmade rugs, Turkish ceramics, beautiful glass mosaic lamps, and an abundance of other traditional Turkish goods.
A typical evening out in Fethiye is always an adventure. There is a local fish market and you can find that one right in the center of town. The stalls are selling almost every type of fish, name it and it is there. The funny part of it is, that you choose the fish first, and then the restaurant you would like to eat the fish in.
The fishmonger prepares your dish and makes sure it will be delivered to your table. It comes with salad, a plate of mixed Meze and of course soft fresh bread. If you haven't tried it yet, eat this meal together with the national drink of Raki. Both are enjoyable and a complement to the fish.
Don't worry if you are not a fish lover. Just take a walk along the harbor, where you will find an array of fine waterfront restaurants offering a wide variety of dishes from burgers and kebabs to traditional Turkish dishes like meze. This part of town is a beautiful setting, for a nice romantic dinner for two as you watch the amazing sunsets and the town's lights reflecting across the seawater.
Most of Fethiye's nightlife is centered on the old town of Paspatur, with a strip of bars and nightclubs, mostly frequented by locals. The strip gets remarkably busy later in the evening with seating areas lining the street and live music playing – the atmosphere is exciting.
And don't forget about the delicious Turkish breakfasts that you will enjoy every morning! Curious what that includes? You can find the answer in our blog post: What Is Turkish Kahvalti?
Outdoor Adventures and Historic Sites in Fethiye
One of the biggest attractions in the region is a hang-gliding opportunity from the mountain above the Blue Lagoon in Ölüdeniz. You can book your paragliding experience from one of the agencies or through your hotel.
Another fantastic site to visit is the Lycian Rock Tombs, which are carved into the cliffs overlooking the bay of Fethiye. It is a bit of an uphill climb but well worth it even if it is just for the amazing views over Fethiye.
Most Amazing Hotels to Stay During Your Honeymoon in Fethiye?
Of course during your honeymoon you want to stay in the best hotel available. But it's a personal decision what that means for you. Do you enjoy the romantic setting of a Boutique hotel, or do you prefer the ultra all-inclusive resorts that you can find in Fethiye.
And don't forget the to look at the facilities of a hotel. Some are even for Adult only, that means that you won't be disturbed by crying babies or yelling children around the pool. This might be a real selling point for some. We know it does for us!
Here are the two most luxurious and romantic hotels that we found for you in Fethiye.
For an unforgettable honeymoon in Fethiye at the Residence at TUI SENSATOR resort, we recommend to book the amazing Lace House with Hot Tub. We promise you will not regret this option.
This hotel has been opened in March of 2021
5-Star Accommodation with Hammam and sun terrace
It is a Adults only resort with Private beach, Restaurant, Swimming pool, Fitness area
8 Restaurants on site
Full Wellness center to be fully pampered!
If you are more into a Boutique hotel, we want to recommend the Alesta Yacht Hotel, which is located in the center of Fethiye. To be more precise in the harbor of Fethiye.
This Boutique hotel has an amazing location with the view over the Fethiye marina. And with a private beach and outdoor pool, you still have the privacy that the other resorts offer. The hotel also includes a spa center with Turkish bath and sauna. And with only a 5 minute walk away from the city center you will be able to fully enjoy the nightlife.
Excelent location in Fethiye
Private Turkish bath, sauna and massages at the Hotel
Open Buffet style Restaurant – Delicious Mediterranean cuisine!
Hotel bar serves delicious cocktails
Amazing rooms with Sea-view, make sure you choose a room with Sea-view during your stay at this hotel!
Other Great Choices for a Honeymoon in Turkey
Antalya
Just 4 hours' drive east from Fethiye, the much larger city of Antalya can be found. This region offers a spectacular sandy beach at Patara, as well as 5-star resort accommodation.
Two hours drive from Antalya is Alanya, an amazing city where we have spend almost two months exploring the city and surroundings. Just before you reach Alanya from Antalya you can find the amazing luxurious hotel Sentido Gold Island, this is an all-inclusive hotel right at the beach. We can definitely recommend this hotel because of its location and amazing service.
Like the other coastal regions of Turkey, it is very multicultural, with a large ex-pat community and plenty of nightlife. Historic ruins, romantic boat tours, and candlelight dinner overlooking the Med are all popular attractions in the Antalya region.
Cappadocia
The place to be for the most romantic hot air balloon ride in the world. But also to explore the amazing natural wonders.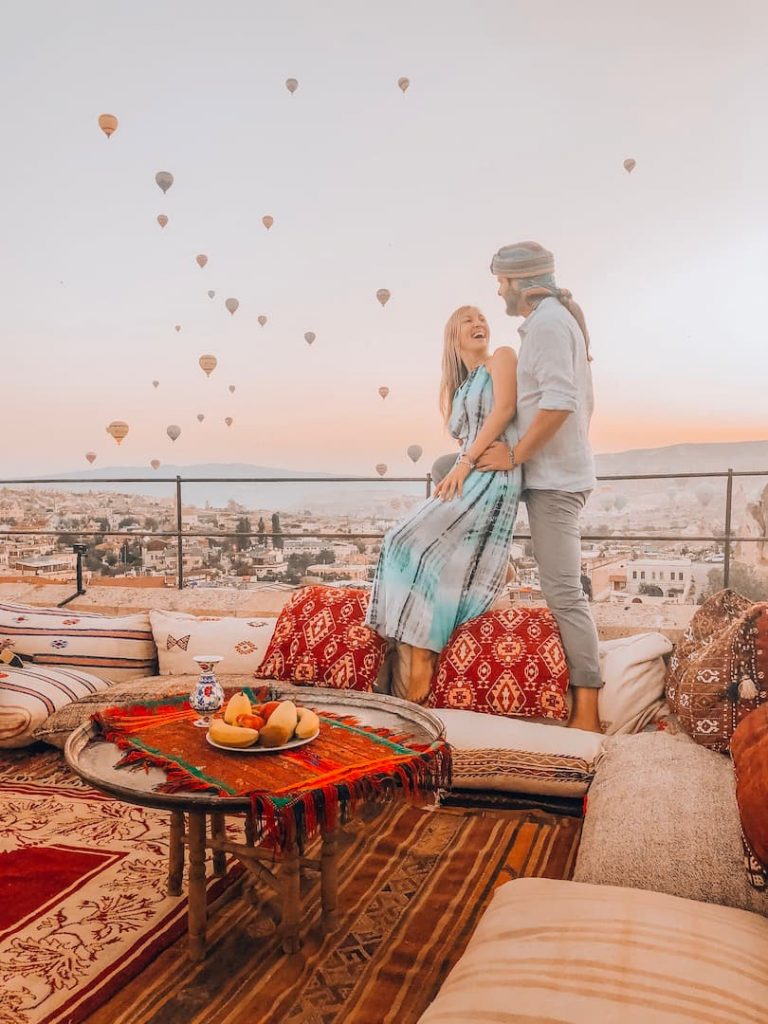 Istanbul
How much days should you minimum stay in Istanbul? Find our answer in our special article!
Are you not sure which place to visit when you are in Turkey? Will it be Ephesus, Cappadocia, or Pamukkale? In this article you find the pros for each site.
Is Turkey good for honeymoon?
Turkey is a great place for a honeymoon, it has clear blue waters to enjoy the beach, many historical places to visit thoughout the country, good food, and romantic spots to enjoy your honeymoon. For example a romantic balloon flight over Cappadocia!
What resort in Turkey is best for couples?
When looking for a resort for couples in Turkey its best to look for an Adults only resort or a Boutique Hotel. Especially if you want to enjoy a romantic en quiet time in the resort or hotel! Two good options: The Residence at TUI SENSATORI Resort Barut Fethiye & Alesta Yacht Hotel
Where do couples go on holiday in Turkey?
Turkey has many great locations for couples to visit. Probably on top of the list are Antalya, Fethiye, Bodrum, Ephesus, Cappadocia, and Pamukkale. We recommend to travel through the country to see all the amazing places!
Where is the nicest place in Turkey?
For many the nicest place in Turkey is without a doubt Cappadocia, where you can enjoy the amazing fairytail landscape by hot air balloon or just by walking the park. But also the Mediterranean coast is a nice place to be to un-stress on your holiday!