Cappadocia is a large and remarkably interesting natural region in Turkey. There are several cities to visit, as well as the natural wonders of the fairy chimneys, the underground city, and the ancient churches.
When visiting Cappadocia, there is a wide range of things to do and see for all sorts of people. There are hot air balloons, horse riding, hiking, guided tours, ancient religious artifacts, museums, and plenty of local culture and food.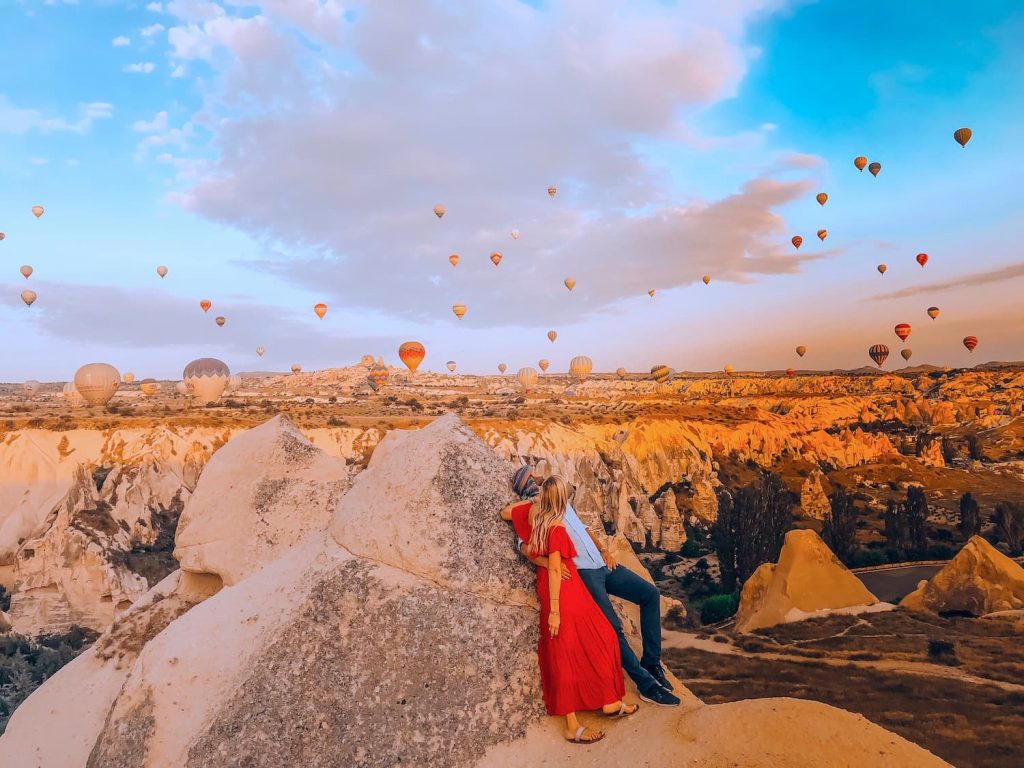 Aside from the tour book highlights, we hope to provide a little bit of inside knowledge and insight, so that you might be able to explore and enjoy Cappadocia to your heart's desire.
How to get from Istanbul to Cappadocia
Istanbul is a world air transit hub, and so finding a flight to almost anywhere is relatively easy. If you want to fly from Istanbul to Cappadocia, you will need to book a flight to the cities of either Kayseri or Neşehir, both of which are in the Cappadocia region.
To get the bus from Istanbul, you can buy tickets online and reserve a shuttle bus from the neighborhood where you are staying to the bus station from which your selected bus will be departing. You can also go in person to one of the many bus ticketing offices around the city, though any of these offices outside of the main tourist area of Sultanahmet will be unlikely to speak English.
There is very little ticket price difference between the companies who work this route, so your decision on which service to use will mostly be made on departure time.
More information about what the best and easiest way is to travel through Turkey you can find in our special blog post: What Is the Best Way to Travel Through Turkey?
Top fun things to do in Cappadocia:
Rent a Scooter:
A scooter costs about 150-200 Turkish Lira per day and could be handy if you want to explore some attractions a bit further away. Scooters are also a great way to discover some valleys and fairy chimneys off the beaten track.
Horseback Riding
Day tours are available at several different ranches around the Göreme and Ürgüp areas. Family-friendly, and a memorable adventure, ride horses around the valleys and fairy chimneys.
Underground Cities
There are at least 5 underground cities open to the public, and very likely more hidden underground to this day. The most popular underground city for people to visit is Kaymakli, it continues to 8 levels under the surface. The passages are narrow and steep to climb, thus not recommended if you are claustrophobic.
Hot Air Balloon
A favorite, and worth the price! Hot air balloons are not cheap, they are expensive to maintain, insurance, and license, but if you are going to blow your budget on one thing in Cappadocia, the balloon ride is worth the price.
Your hotel can book flights for you, and arrange pickup. Remember that the flights are almost exclusively at dawn, so you will be waking up early. The flights are dependent on the weather, so if there is a cancellation, your reservation will be switched to the next available day at no extra cost.
Hike the red valley at sunset
The red valley is a dramatic scene at any time of the day, but when the last sun rays hit the rocky outcroppings, they seem to glow a vibrant red color giving the valley its name. You can hike the valley from either end or just drive up to the top and sup tea while you watch the sun go down.
Explore Ihlara Valley
Do you love to swim under a waterfall? Then you definitely don't want to miss the Ihlara Valley, because it is an incredible gorge with a stunning river running right down the heart of the valley.
At the start of the trail that runs by the river, you will find a waterfall where you can swim, which is why it makes it one of the top ten things to do in Cappadocia. Especially on those hot summer days!
Visit the Cavusin Castle
This castle is a unique sight, as it is more of a mountain than a castle. The rooms and corridors of the castle have simply been carved out from the rock outcrop, displaying a clever use of natural landscape to create human dwellings.
There are many carved rooms and caves to wander around, and as you reach the top of the castle you will be offered a fine view of the Cavusin valley below.
Wine Tasting At The Turasan Winery
You will find that Urgup produces boutique wines, which have become a signature of Cappadocia. You can easily find the white wines produced especially from Emir grape.
You can book your half day Vineyards and Wine tasting tour here to make sure to not miss this highlight of Cappadocia.
Are you in for more Turkish food tasting:
When is the best time to visit Cappadocia?
Cappadocia is open and available to visit year-round. Keep in mind that it is technically a desert and is thus extremely hot in the summer and very cold in the winter.
April-June or September-November are ideal seasons to visit and are therefore the most crowded times. Winter in Cappadocia is nearly empty, so if you do not mind the chilly weather, the area can be starkly beautiful.
How many days should I spend in Cappadocia?
To see and do an incredible number of fun things in Cappadocia, you should reasonably give yourself about 7 days. Some people come only to see the fairy chimneys out of their cave hotel window, and that is fine. If you only need to take a look and move on, then just a day is enough.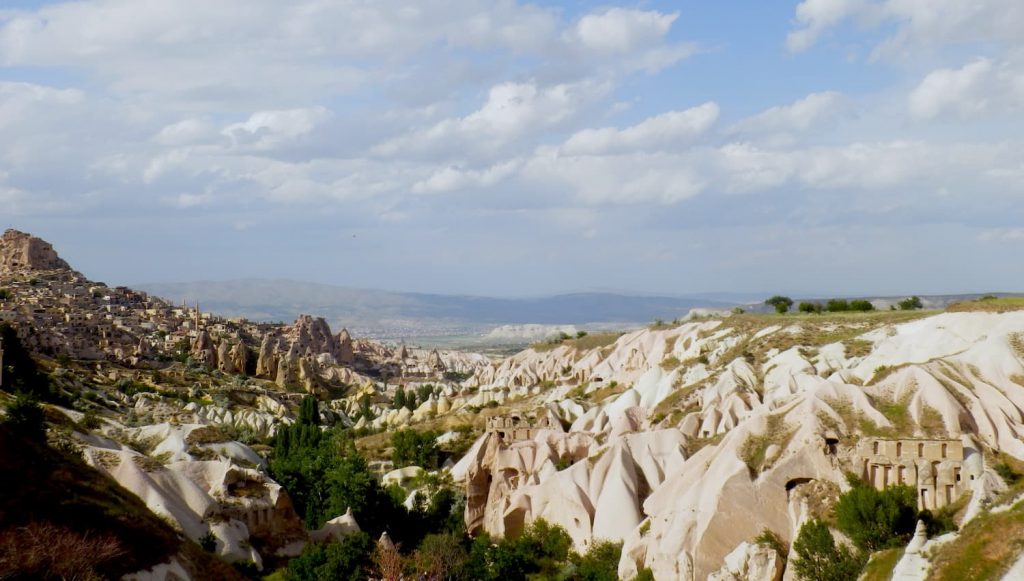 But if you want to explore the area, get to know some of the villages, and have enough time to venture out in all four directions, then a week is necessary. Cappadocia is a large area, and some sights are hours away from each other even by car.
Don't forget that hot air balloons are not able to fly every day, depending on weather conditions, so don't just come for a day and expect your balloon ride to happen, you may be disappointed.
Do you want to find out where else you can fly a hot air balloon? Find two other amazing places in this blog post about hot air balloons in Turkey!
One main question many tourists who come to Turkey ask: Should I Visit Ephesus, Cappadocia or Pamukkale When in Turkey? You will find your answer in the blog post dedicated to that "Big" question!
Is Cappadocia safe to travel through for women?
Like almost any other place in Turkey, Cappadocia is very safe for women. Either traveling in a group or alone. Turkish culture is very hospitable, and Turkish people are always ready to help out where they can!
Is Cappadocia open for tourists in 2021?
Cappadocia is open for travelers. At this moment the lockdown is being slowly removed and you will be able to make fully use of the activities around Cappadocia, both during the week and weekend.
Is Göreme and Cappadocia the same place?
Cappadocia is a area in the anatolian region of Turkey, and Göreme is a town located in Cappadocia. Göreme has a open museum with cave churches and frescoes, and just to the north of the city you can find the fairy chimneys.