Since we are living already a few years in Turkey, many of our friends who will visit us in Turkey are asking us which site they should definitely visit during their stay: Ephesus, Cappadocia, or Pamukkale?
We have visited all of them, some with friends and family. But which site should you definitely not skip on your visit to Turkey?
All three are definitely worth a visit, and we want to recommend visiting all three of them, but if you have to make a choice: for history and archaeology lovers definitely Ephesus, the Cappadocia region is for the more adventurous persons, Pamukkale exists of thermal springs and an archaeological site.
Pamukkale and Ephesus are easier to combine with each other than Cappadocia due to the distance between them. But traveling in Turkey is cheap and fast, so if you find the best way of traveling we are sure you can make it to all three of the sites.
Let's take a look at the highlights for each site and why you might want to visit them all.
Why should I visit Ephesus?
Ephesus is one of the Seven Wonders of the World. It's called the "First Great Capital of Asia". Ephesus was added to the UNESCO World Cultural Heritage List in 2005. Ephesus has seen a lot of different civilizations. The different civilizations benefited from the strategic location over the years; you will be able to see many different structures.
Most of the structures are from the Roman and Hellenism Civilization. Ephesus is known for its historical library, churches, and theatres. Two million people visit Ephesus every year. Ephesus is located near İzmir in the West of Turkey and is just 3 km away from Selçuk.
The legend of Ephesus
According to the legend, in the eleventh century B.C the king of Athens had a son named Androcles. Androcles was eager to discover the other side of the Aegean Sea. Before setting out on his quest, he went to the temple of Apollon in Delphi; he wanted to search for a new Greek settlement and asked the oracle for guidance. The oracles told him: "Where the fish and pigs point, you will build a city". Androcles didn't understand the words but decided to travel and search.
After some time traveling over the Aegean Sea, they wanted to come to shore at the estuary of the small Menderes river. After they set foot on land, they decided to light a fire to warm up and cooked the fish that they had just caught.
When they were cooking the fish, a wild boar emerged from the bushes, grabbed the fish, and ran away. At that moment Androclos remembered what the oracle had said and Androclos decided to build the city in this region. This is the legend of the settlement of the city of Ephesus.
According to excavations and research, the construction of Ephesus started around 6000 B.C. and over a time of 7500 years people have lived in this city. With a peak of over 225,000 inhabitants living in the city at the same time.
Places to see when you visit Ephesus
It has a capacity of 24.000 people. The construction completed in BC 177, the theater had gladiator fights. A lot of stars had concerts like Elton John and Ray Charles.
It was the third largest library in the world in its time.
It has lots of statues and It had around 15.000 books.
The bath was built in the early 100s BC. It has 3 floors.
The bath was built with high technology compared to the period.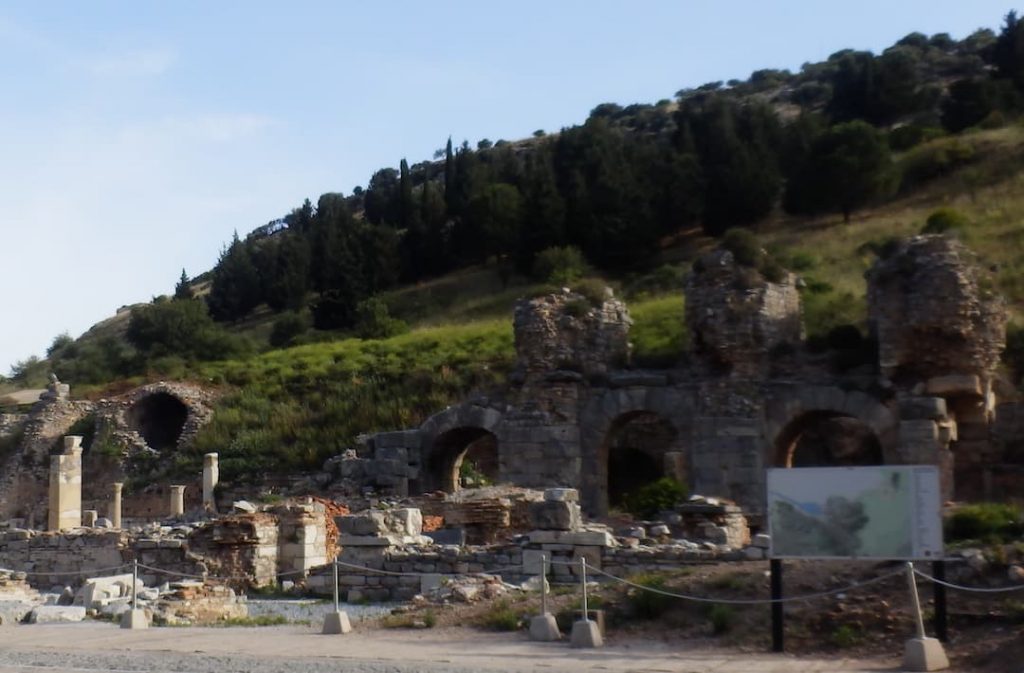 How Much Does Entry to Ephesus Cost?
Entrance to the Ephesus archeological site would set you back around a 100TL ($12.50) but sometimes there is a reduction on the price. You can buy your online tickets here.
Why should I visit Cappadocia?
Cappadocia is in Nevşehir in the interior of Anatolia in Turkey. Cappadocia consists out of multiple interesting sites to visit like Avanos, Ürgüp, Göreme, Uçhisar, Ortahisar Castles, El Nazar Church, Mirrored Church, Güvercinlik Valley, Derinkuyu Underground City, Kaymaklı Underground City, Özkonak Underground City, Ihlara Valley, Çavuşin Valley, Güllüdere Valley, Selime Village and Paşabağ-Zelve.
The most attractive place in Cappadocia is for most without a doubt the Fairy Chimneys. This fairytale landscape has won the hearts of many visitors due to its magical realm.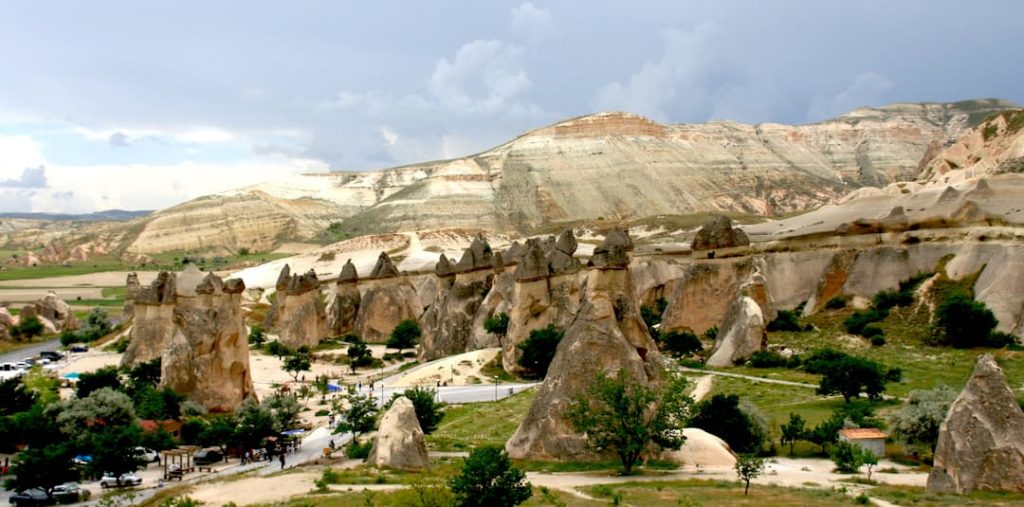 Cappadocia is an amazing place for adventurers because of the many activities that can be done in this region. The hot air balloon ride is the activity that should be on your top priority list when you will visit Cappadocia. Flying over this UNESCO World Cultural Heritage site is one of the best things you can do when you will visit Turkey. It will be an experience you will never forget!
Of course, you can also explore the landscape by foot, horse, or quad besides the many other options that you have in this amazing place.
Underground Cities:
Derinkuyu Underground City: City is in Derinkuyu District (highway of Nevşehir-Niğde and about 30 km from Nevşehir). The Underground City has 8 floors, a missionary school, a confession room, a baptismal pool, and a well. Christians settled here many years ago due to Roman opposition. You can watch this video about Derinkuyu Underground City:
Kaymaklı Underground City: City is in Kaymaklı Town in Nevşehir. It also consists of 8 floors but only 4 floors are accessible to the public. You can visit and walk through its narrow corridors, wine stores, water cellars, kitchen and supply stores, ventilation chimneys, water wells and its church.
Why should I visit Pamukkale?
Pamukkale is located near Denizli in the South of Turkey. Pamukkale has a natural bath. It has geothermal water and consists of travertines. The travertines are covered with a white substance and therefore it looks like cotton. In Turkish Pamukkale means "Cotton Castle".
The travertines are built up out of a limestone type. The limestone dissolves underground in hot water and when the water comes to the surface the limestone is leaving a residue on the travertines giving its white color.
Pamukkale is definitely the destination for your next jealous Instagram photo shoot!
The Legend of Pamukkale
Pamukkale has, like any other mysterious place, an interesting legend. Back in the days there was a poor woodcutter that had a very ugly daughter that nobody wanted to marry. This Turkish young girl was so depressed that she tried to commit suicide by throwing herself off the Pamukkale cliffs. Because there was a travertine with water that broke her fall, she survived the attempt.
The water in that natural pool changed this girl from very ugly to very beautiful attracting the attention of a Turkish lord named Denizli, who was just passing through that place. After seeing her he fell in love with her and took her in his home and decided to marry her.
This is another reason why so many people nowadays not only believe in the healing benefits of the water in Pamukkale, but that it also can make you more beautiful.
Why not try it out for yourself? Bring your swimwear and enjoy the warm baths in Pamukkale, either in the travertines or in Cleopatra's ancient pool that is filled with ornaments and leftovers from the old temple that was once covering the pool.
Conclusion
If you will be in Turkey, you have to try visit to visit all these locations. They are all breath taking and will make a lasting impression. The rich history of Turkey is so obvious in these locations, so don't be just the all-inclusive tourist, try to discover these locations and we are sure that you will want to see more of this beautiful country.