We love the Turkish sweets when we are traveling through Turkey. But as we are eating away at this heavenly treat, we are wondering, what is this Turkish Delight, or as locals call it lokum, made of? 
Turkish Delight, or lokum is traditionally cube-shaped, but is also sold as sliced rolls or in other shapes. Turkish Delight is produced by thickening starch and sweeteners like sugar or honey, to form a chewy treat. The sweet is often flavored with a wide variety of nuts, fruit juice, extracts, or herbs.
Turkish Delight, refers to a wide variety of confections which are produced in Turkey and other countries, and is widely available in most supermarkets and shops around Turkey. It is also sold around the world including the Arabian Peninsula, Eastern Europe, and North America.
A popular and low-cost sweet snack, Turkish Delight can be served alongside coffee, as an offering at weddings or funerals, or on religious holidays.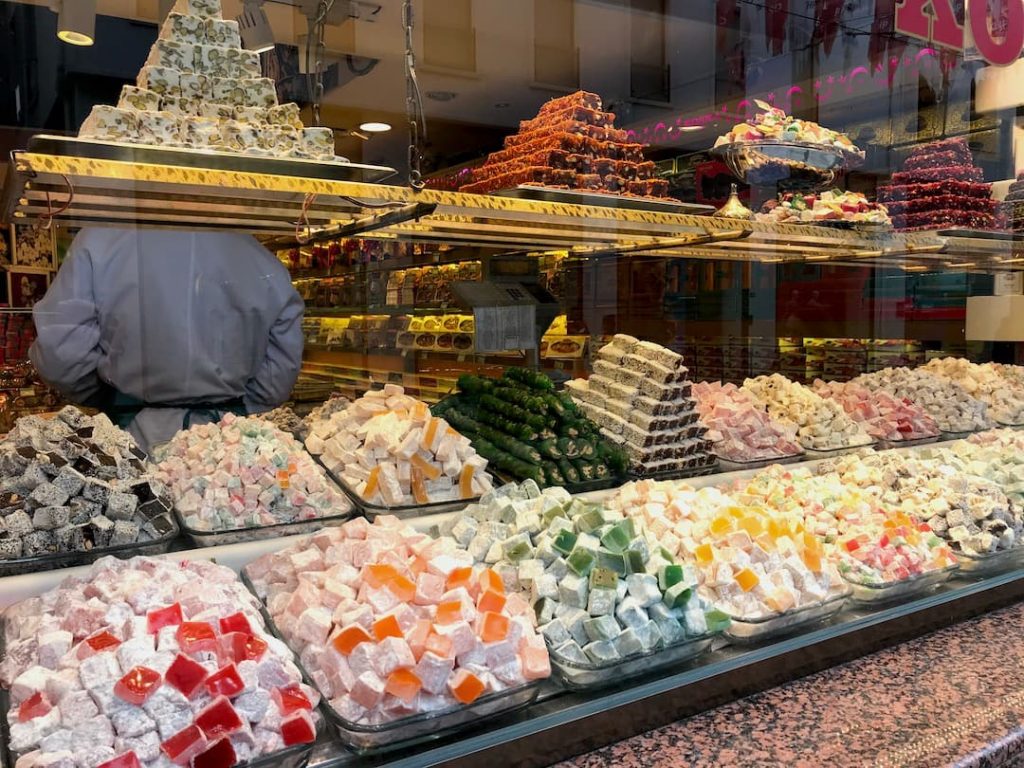 In Turkey it's best to ask for Lokum, but in English speaking countries it became known as "Turkish Delight" and for French speaking countries it is often expressed as "Lokoum". All this refers to the same sweet chewy treat that we are so fond of!
What Is Turkish Delight Made From?
Turkish Delight is made from cooking together starch, water, and sugar until it forms a sticky paste. This sticky paste is rested for 24 hours before being kneaded into flattened blocks and chopped according to the manufacturer's desired shape.
During the cooking process, flavorings may be added in the form of fruit extract, herbal essences, nuts, dried fruits, cocoa powder, or any number of other flavors. The original lokum flavour was rosewater, but nowadays some of the most popular flavors of lokum include:
Herbal flavors: rosewater, mint, rosehip, thyme
Fruit flavors: pomegranate, lemon, lime, orange, pear, banana, and strawberry
Spiced flavors: cinnamon, mastic gum, clove, chocolate, and coffee
Nut flavors: walnut, pistachio, hazelnut, coconut, peanut, almond, or sesame
The Culture of Turkish Delight in Turkey?
When and how would you expect to see Turkish Delight served? The most common use for lokum is as a sweet counter flavor to the bitterness of black Turkish Coffee. When invited to drink a coffee after a meal, or with a family member on a house visit, do not be surprised to see a few cubes of Turkish Delight served in a small dish alongside the coffee.
Another instance where you might expect to see this tasty snack is during religious holidays, funerals, or weddings, where the Turkish tradition of offering a small treat known as ikram is manifested. The act of giving is considered a holy act, and the giving of sweets a popular way to express this sentiment. The birth of a baby may also be celebrated by sharing a small box of Turkish Delight.
What Is the History of Turkish Delight?
The origins of Turkish Delight are unsure, though it is widely believed to have been invented in Istanbul in the 1700s. At this time, a man known as Haci Bekir was working as a confectioner making a variety of Turkish sweets like akide, which is a form of boiled sugar.
Whether by accident or design, Haci Bekir happened upon a method for boiling starch and sugar into a compound that did not harden completely but instead remained chewy.
This chewy starch and sugar mixture forms the base of all kinds of Turkish Delight, just knead a few other ingredients into the batter to change the flavor completely. Lokum is a precursor to the method used for making modern sweets like jelly beans and gummy bears.
How Much Will Lokum Cost and Where Can I Buy It?
Turkish Delight is widely available in Turkey and is relatively inexpensive. Aside from buying the mass-produced varieties in grocery stores, you can also go to a local confectionary and purchase a wide variety of freshly made varieties, and even sample a few flavors to help choose which one you want. Expect to pay about 100-150 Turkish Lira per kilogram. Of course, most people choose to buy a much smaller portion.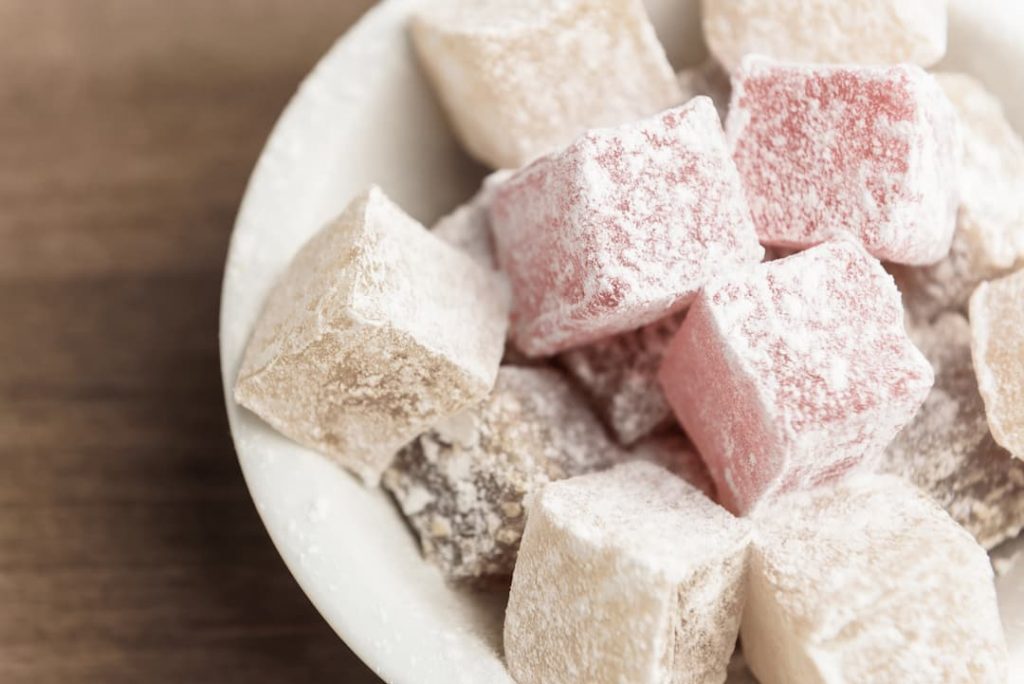 In Istanbul, you can visit Ali Muhiddin Hacı Bekir which has been open since 1777 and still sells the original recipe lokum first invented to be served to the Ottoman Sultan. Koska is the best-known brand for Turkish confections, visiting one of the many locations is recommended when you are traveling through Turkey.
If you are not able to visit Turkey, Turkish delight can also be bought online from websites like eBay or Amazon and is offered in a wide variety and packaged in long shelf-life boxes.
What Are Some Alternatives to Turkish Delight?
Turkish delight is not just a fun chewy treat to eat, it is also incredibly beautiful. If you happen to be served a tray of mixed lokum, you will probably notice the array of shapes and colors, and how they make an awesome photograph to post on social media.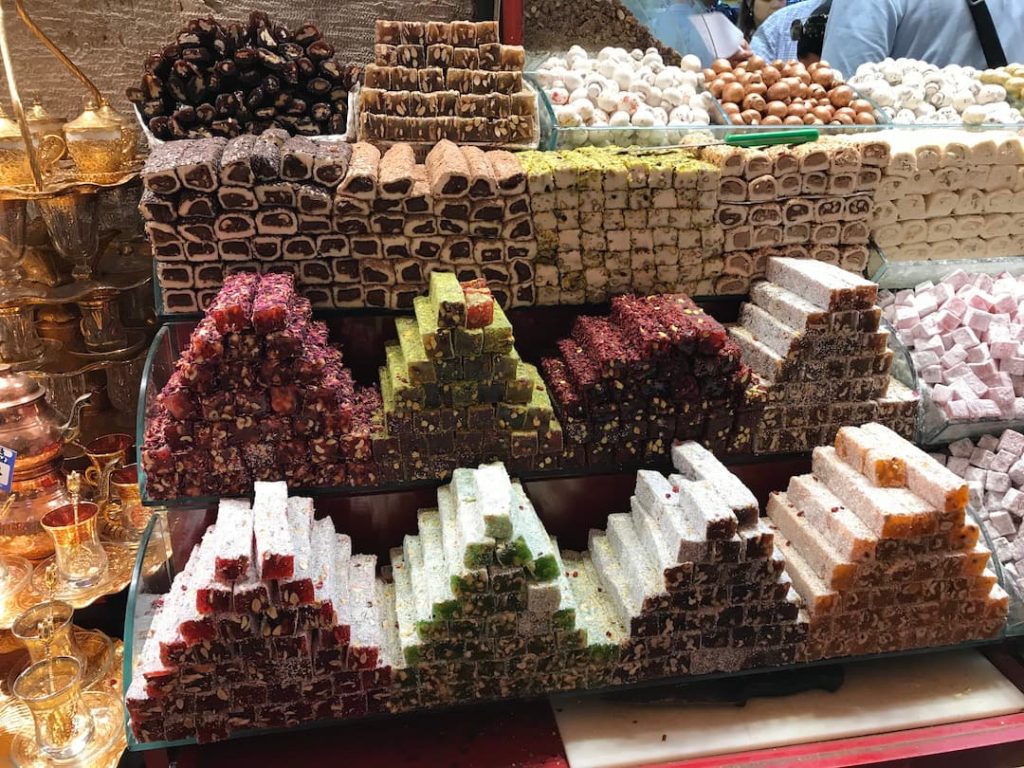 Even with its excellent visual appeal though, some people just do not like Turkish Delight. Other Turkish treats to consider trying would be baklava, which is made of thin phyllo pastry layered with nuts and soaked in honey and sugar. Also popular is künefe, which is like sweetened shredded wheat atop melted cheese and soaked in simple syrup.
We hope this article will encourage you to come and visit Turkey and try fresh made "Turkish Delight".
Are you arriving at the new Istanbul Airport? Find out how to get to the city center here.
Is Lokum Vegan?
Most of the brands that are being sold in Turkey are suitable for Vegans, but you should be careful for the Turkish delight that are being sweetened with honey. In Turkish "Bal", at the Koska shop you can find Lokum with the sign "Suitable for Vegans".
What Does Turkish Delight Taste Like?
With the structure of Gummy Bears, it has a sweet and creamy flavor, and a sticky chew at the end. Delicious with tea!
Where does Lokum originate from?
Lokum, or also know as Turkish Delight originates from Turkey. It was invented in the 16th century.
Is Turkish Delight a laxative?
Only if you will eat a lot it might have a laxative effect. But rest asure in normal portions you probably won't feel the difference!
Does Turkish Delight Contain Gluten?
Lokum is made from corn starch, which is naturally gluten-free. So make sure to choose the Turkish delight made of corn starch and you can't go wrong!