Picture yourself stepping off the plane into warm Mediterranean sunshine, palm trees swaying in the breeze. As you make your way through gleaming terminals, you emerge to stunning views of Turkey's Turquoise Coast. Welcome to Antalya Airport, the major gateway to the beaches, resorts, and ancient ruins of the Turkish Riviera region.
With its convenient location just 9km from Antalya city center, this spacious, modern airport provides easy access to one of the Mediterranean's top vacation destinations. Since opening in the 1950s, Antalya Airport has grown into an international hub serving over 30 million passengers annually. This world-class airport offers extensive facilities for global travelers.
Whether you're visiting for a luxury holiday or idyllic backpacking trip, your Turkish adventure starts at Antalya Airport. Its two crisp white terminals sit nestled between the sea and mountains, promising the wonders ahead.
The warm sea, endless summers, and rich history that draw millions here each year all begin at the runways. We uncover everything you need to know about this bustling airport that's both a destination itself and a launch point for exploring the Turkish Riviera.
Where is Antalya International Airport?
Antalya Airport (AYT) is located just 9 km northeast of Antalya city center on Turkey's Mediterranean coast. The airport serves Antalya and the surrounding holiday resorts along the Turkish Riviera. With turquoise waters and ancient ruins, the Antalya region is a popular beach destination. The airport's convenient location means you can get to the resort beaches in no time!
What is the airport code for Antalya International Airport?
Antalya Airport has the IATA airport code AYT and the ICAO code LTAI. This code AYT is used to identify the airport on booking systems and flight tickets. For example, your ticket might show your flight is arriving at or departing from AYT.
What is the history of Antalya International Airport?
Antalya Airport was opened in 1957 to serve the growing tourism industry in the Antalya region. Back then it was simply called Antalya Airport. In 1987, it became Antalya International Airport as more overseas flights were added.
The 1980s and 90s saw huge growth in passenger numbers, so in 1998 a new international terminal was opened to handle increasing tourists. A domestic terminal for flights within Turkey also operates.
When was Antalya Airport built?
Construction of the original Antalya Airport began in 1955 and it opened two years later in 1957. So the airport has been operating for over 60 years now, though of course with many expansion projects and upgrades over the decades.
Why is Antalya International Airport considered dangerous?
Unlike some airports, Antalya Airport does not have any major safety concerns or issues with its operation. Its two parallel runways meet international standards. There are also no risky approaches over water or mountains.
While Antalya Airport gets very busy during peak season, it has a good safety record and infrastructure to handle the traffic. Dangerous airports have short runways, challenging terrain or limited flight control systems. Luckily, AYT does not fall into these risk categories.
How big is Antalya International Airport?
Antalya Airport covers over 7,800 hectares of land, making it one of the largest airports in Turkey. It has two parallel runways handling takeoffs and landings:
Runway 04/22 – 3,350 meters long
Runway 18/36 – 3,000 meters long
These runways are capable of accommodating even the largest passenger jets. There are also extensive taxiways and aircraft parking aprons.
In 2019, AYT served over 30 million passengers, ranking as the 3rd busiest airport in Turkey. The terminals, runway system and ancillary facilities are sized to match this enormous capacity.
In April 2018, Antalya Airport opened an additional international terminal called Terminal 2, located about 3 km from the existing Terminal 1.
Terminal 2 was built to help accommodate the airport's rapid growth in passenger traffic. It added 12 more aircraft parking positions with jet bridges, increasing the airport's overall capacity.
Terminal 2 serves only international flights, primarily from Europe, Russia and the Middle East. Some airlines operating out of Terminal 2 include Turkish Airlines, Aeroflot, flydubai, Qatar Airways, Ukrainian International Airlines and AtlasGlobal.
Terminal 2 has all the usual facilities required for international operations – check-in hall, passport control, security, duty free stores, lounges and other passenger amenities.
So in total, Antalya Airport now has 3 passenger terminals – the main international Terminal 1, the newer international Terminal 2, and a domestic terminal. The multiple buildings give flexibility to manage high traffic volumes during the peak summer tourist season.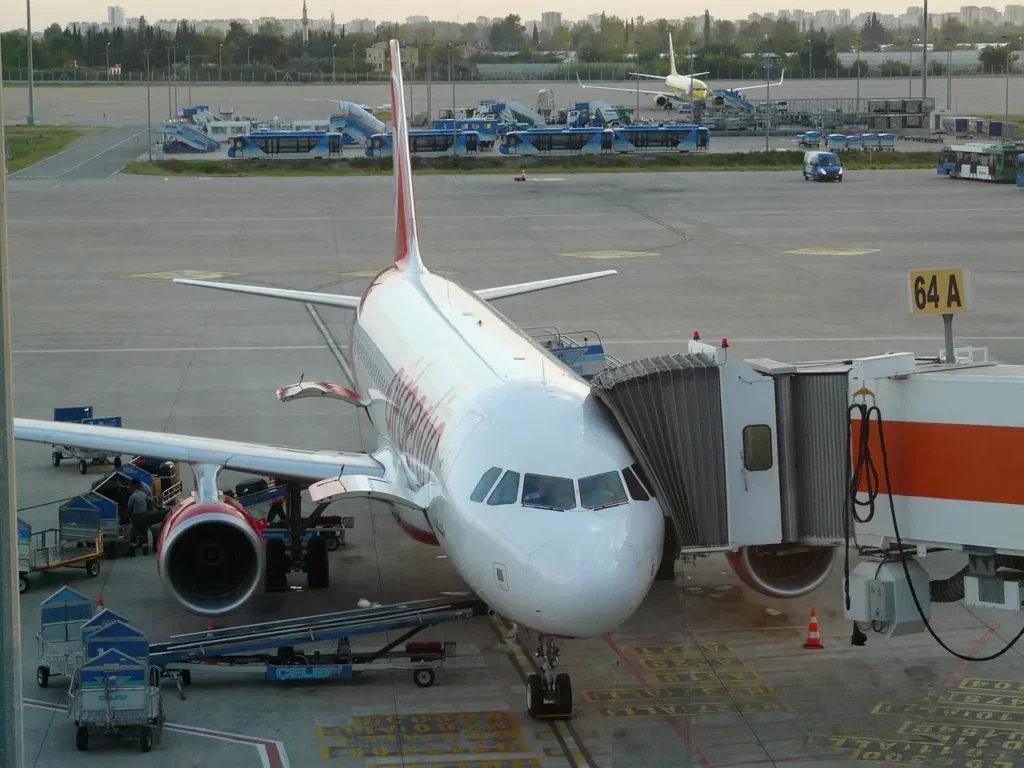 What are the facilities of Antalya International Airport?
The airport offers free wifi, conference rooms, VIP services, car rentals, banks/ATMs, and other passenger conveniences. The facilities are designed for safety, efficiency and comfort.
Antalya Airport has extensive facilities to handle over 30 million passengers annually:
1. Runway
The airport has two parallel runways capable of simultaneous operations:
Main runway 04/22 is 3,350 meters long and 45 meters wide
Secondary runway 18/36 is 3,000 meters long and 45 meters wide
Both runways are equipped with modern landing aids like approach lighting, PAPI signals and ILS.
2. Terminal
Separate International and Domestic Terminals
Over 100 check-in counters with self-service kiosks
25+ passenger boarding bridges for direct aircraft access
Immigration, customs, security screening areas
Duty free shopping and specialty retail stores
Lounges, prayer rooms and other passenger amenities
3. Apron
50+ aircraft parking positions near the terminals
Maintenance hangars perform inspections and repairs
Refueling stations to replenish plane fuel supplies
4. General Aviation
Private jet terminal for business flights
Hangars, maintenance and support for corporate jets
Separate parking and services for GA traffic
5. Tower
The air traffic control tower is 63 meters tall, giving controllers a clear view of the entire airfield and both runways.
6. Navigation
Precision navigation aids like ILS help guide aircraft to the runway. Radar provides air traffic control monitoring.
How can I reach Antalya International Airport?
Several travel options to get to the airport:
Taxi – 15-20 minute ride from Antalya city center
Bus – Bus 600 runs a regular airport shuttle service
Tramway – Take the AntRay tramway to the Airport stop
Private transfers – Pre-book a car/minibus pickup from your hotel
Rental car – Hire a car and drive yourself to the airport
Clearly signed airport access roads make driving straightforward. For public transport, the tramway, bus or airport taxi are budget-friendly options. The AntRay tramway provides service from downtown Antalya directly to the airport terminals.
How can I reach Antalya International Airport terminal 2?
By Shuttle Bus:
There is a free shuttle bus that runs between Terminal 1 and Terminal 2 every 30 minutes. The bus stop is located outside the arrivals level of each terminal.
Simply take the shuttle bus from Terminal 1 to Terminal 2 if you are parked at or arriving to Terminal 1.
Make sure to allow enough time – the shuttle ride takes approximately 15-20 minutes each way.
By regular bus:
There is a bus passing by International Terminal 1, Domestic Terminal and reaching its destination at Terminal 2. You can choose between either bus 600 or 800 to travel between the two International Terminals.
By Taxi:
Taxis are available at the taxi stand outside each terminal building.
A taxi from Terminal 1 to Terminal 2 takes around 10-15 minutes depending on traffic.
Ask the driver to use their meter to charge the official taxi fare. Expect to pay around 40-50 TL one way.
Be sure to confirm which terminal your flight is leaving from. Then allow sufficient time to take the shuttle bus or taxi to reach Terminal 2.
Which airlines arrange flights to Antalya International Airport?
Some of the major airlines offering flights to and from Antalya Airport include:
Turkish Airlines – Multiple daily flights from Istanbul and Ankara hubs
Pegasus Airlines – Up to 10 daily flights from Istanbul, daily from Ankara, Izmir
SunExpress – Multiple daily flights from cities across Germany
Lufthansa – Daily flights from Frankfurt and Munich
British Airways – Multiple weekly flights from London Gatwick
KLM – Multiple weekly flights from Amsterdam
Transavia – Up to 7 weekly flights from Amsterdam, Rotterdam, Eindhoven
Germanwings – Several weekly flights from major cities in Germany
Austrian Airlines – Multiple weekly flights from Vienna
LOT Polish Airlines – Several weekly flights from Warsaw
Aeroflot – Daily flights from Moscow
S7 Airlines – Daily flights from Moscow
Flydubai – Daily flights from Dubai
Qatar Airways – 5 weekly flights from Doha
airBaltic – Multiple weekly flights from Riga
Finnair – Multiple weekly flights from Helsinki
The peak summer season sees the highest number of flights, with reduced schedules in winter. But major airlines like Turkish and Pegasus maintain year-round service. Destinations span Europe, the Middle East, and Russia reflecting Antalya's popularity
Where can you follow the airport schedule of Antalya International Airport?
Real-time flight information is available on the Antalya Airport website (www.aytport.com). You can view:
Arrival & departure schedules
Check-in times according to destination
Gate numbers
Airline & flight number
aircraft type
Status of flight (on time, delayed, etc)
Flightstats.com is another website providing up-to-date schedules and status of flights at AYT airport.
What are the passenger statistics of Antalya International Airport?
As one of Turkey's busiest airports, Antalya saw rapid growth in passenger traffic from 2000 to 2019. Some key stats:
2000: 4.7 million passengers
2010: 17.4 million passengers
2019: Over 31 million passengers, ranking #3 in Turkey
However, the COVID-19 pandemic caused a huge decline:
2020: Only 9.7 million passengers
2021: 21 million passengers as tourism rebounded
Forecasts predict AYT may exceed 35 million annual passengers once tourism fully recovers. The airport has the capacity to handle this future growth.
What are the hotels close to Antalya International Airport?
Some of the hotels that are situated close to Antalya International Airport and are in the vicinity to the airport are listed below.
Is the hotel close to Antalya International Airport budget-friendly?
No, the hotel close to Antalya International Airport is not budget-friendly. IC Hotels Airport which is the closest hotel to Antalya Airport goes for an average nightly rate of €110. This hotel holds a 4-star rating and has some of the facilities and features listed below.
Located just 1km from Antalya Airport terminals, providing easy access
Free airport shuttle service available to/from the hotel
346 modern guest rooms with air conditioning, minibar, and satellite TV
Suite rooms and family rooms available for more space
Outdoor swimming pool and children's pool area
Fitness center and spa offering massages
Sauna, Turkish bath, and other wellness facilities
On-site restaurant serving Mediterranean cuisine
Bar and lounge area for drinks and snacks
24 hour front desk and room service
Currency exchange and safety deposit boxes
Meeting rooms for business events and conferences
Complimentary wireless internet throughout the hotel
Accepts pets in designated guest rooms
Airport parking offered at a daily fee
Multilingual staff speaking Turkish, English, German, and Russian
The IC Hotels Airport combines convenience, comfort, and an extensive range of on-site amenities for a great stay near the airport. It's a popular airport hotel choice in Antalya for both business and leisure travelers.
You can find more budget friendly hotels in Antalya, and most hotels offer airport shuttle services to make sure that you arrive safely and in time for your flight at the Antalya Airport.
Does Antalya International Airport have a restaurant?
Yes, Antalya Airport has a wide selection of restaurants and cafes for every budget and taste:
Food Court and branches of fast food chains like Burger King in terminal
Bistro-style cafes serving coffee, drinks and light meals
Turkish cuisine restaurants offering kebabs, pide and local dishes
Upscale full-service restaurants with broader international fare
You'll find all these dining options after passing through security in the departure halls. There are also lounges with complimentary snacks and drinks.
Who owns Antalya International Airport?
Antalya Airport is owned and operated by the Turkish State Airports Authority (DHMI). Major development projects and concessions are also granted to international airport operators like TAV Airports.
So in summary, while the Turkish government owns the asset, they partner with private companies to help expand and improve service levels. This helps ensure Antalya remains a world-class airport.