As a local Turkish resident, I'm often asked by visitors – what's the best way to explore Antalya's magnificent coastline and surrounding turquoise waters? My answer is always the same: get out on a boat!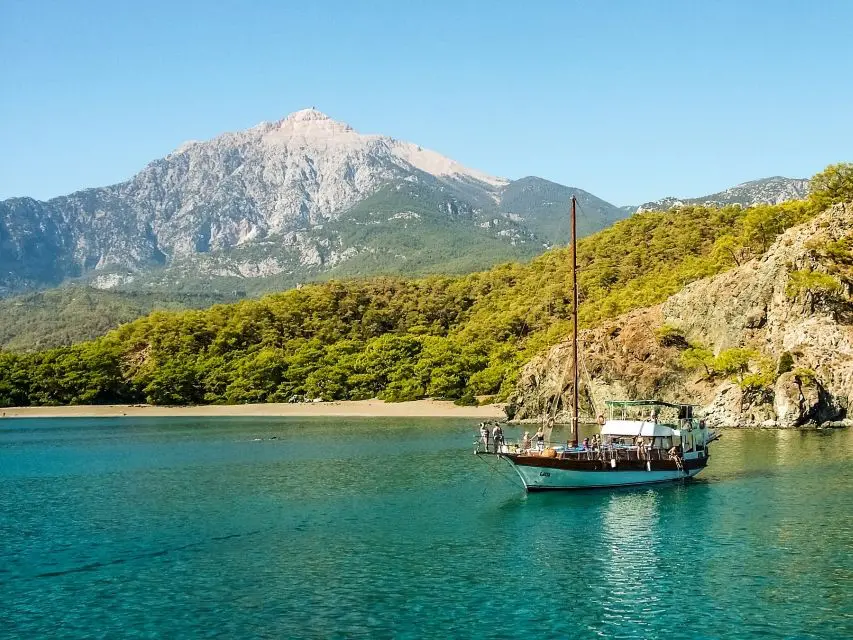 But where do you find the best boat tours in Antalya? I am here to sum them up for you. Do you enjoy the ancient sites, or do you prefer snorkeling with the marine life around Antalya. Find your best boat tour below.
Why Go on a Boat Tour?
Antalya has so many breathtaking beaches, secluded coves, and fascinating ancient sites along its coast. The only way to fully experience them is by boat. You can swim and snorkel in crystal clear waters, find serene spots away from the crowds, and get to destinations not reachable by land.
Boat tours are perfect for families, couples, or solo travelers. They're offered in all price ranges – from budget day trips to luxurious private charters. You'll make wonderful memories while discovering the spectacular scenery and history of Antalya's riviera.
Best Boat Tour Types
Full Day Yacht Cruise
For an unforgettable day on the Mediterranean Sea, I highly recommend booking a full day yacht cruise. Most tours use gulets – traditional Turkish wooden sailing boats – and take you along the coast from Antalya harbor.
Where You'll Go
Full day yacht cruises let you enjoy Antalya's beaches and coastline at a leisurely pace. You'll stop at secluded bays and islands to swim in the crystal clear waters. Most tours stop at Kemer's beautiful Moonlight Beach and Phosphorous Cave, as well as some combination of Green Canyon, Hamza Bay, and Turunç Bay for swimming breaks.
Lunch and snacks are provided on board. Many tours also offer complimentary drinks like juices, sodas, tea and coffee.
Why Book This
You'll get the ultimate Mediterranean sailing experience away from the tourist crowds. The yacht cruise allows you time to truly soak in the natural beauty of Antalya's stunning coastline from a unique vantage point. It's very relaxing and peaceful out on the water.
I highly recommend Olympos Yachting's full-day yacht cruise to the bays around Olympos. It takes a maximum of 22 passengers so doesn't feel crowded. Their gulets are modern with comfortable seating and nicked named after ancient Lycian cities.
Pirate Boat Party
If you're traveling with a group of friends or looking for an energetic, party-style cruise, Pirate Boat tours are a blast. You'll feel like a kid again with the pirate costumes, blasting music and high-adrenaline activities.
Where You'll Go
The 6-8 hour Pirate Boat trips depart from Antalya harbor and head east along the coast towards Side and Manavgat. After about an hour of cruising, the fun begins! There are designated swimming and activity stops, usually at Antalya's lovely Sarisu Beach and at Side.
Activities include water slides, water guns, jumping from the boat, banana boating, paddle boarding, and competitions like water volleyball. The crew keeps the energy high with dance-offs, games and plenty of drinking and dancing. Lunch is provided on board.
Why Book This
Pirate Boat tours are perfect for birthday groups, bachelor/bachelorette parties, or travelers simply looking for an exhilarating day. With an open bar, fantastic Turkish barbecue lunch and high-energy atmosphere, you'll have an absolute blast.
I recommend Net Tours' Pirate Boat Party which takes up to 35 passengers. Their wooden pirate ship is equipped with water toys, a water slide, and floating trampoline! Dress up in your best pirate garb.
Phaselis & Sunken City Tour
For history buffs and snorkeling enthusiasts, a cruise to Phaselis and Kekova Island's Sunken City is a must. You'll get the chance to explore fascinating ancient ruins and snorkel above a Lycian necropolis partially submerged underwater.
Where You'll Go
This full-day boat trip departs from Çayağzı port near Demre and sails south. Your first stop will be the Kekova Island across from Demre to snorkel above the Sunken City of Kekova. A Lycian town which sank after earthquakes in the 2nd century, you can still see ruins and sarcophagi underwater as you float above the bay.
After snorkeling over the sunken city the boat wil stop for 1 hour at the Kaleköy port, venture up to the hilltop Simena Castle. This medieval castle was built in the 13th century by the Knights of St. John and offers breathtaking panoramic views over the sunken city. Wander through the ruins and imagine what life was like for the knights who once inhabited this stronghold.
After exploring Phaselis, you'll continue sailing to peaceful bays like Gökkaya Bay, and Karemlik Bay to look for the turtles in their natural habitat. And explore the intriguing naturally-formed Pirates Cave, renowned for its large size and curved entrance.
This tour will end by visiting the ancient city of Myra, Demre's most famous archaeological site. You will visit some of Myra's most significant ancient ruins dating as far back as the 5th century B.C. The two highlights of this stop: a Roman-style theatre (the largest in Lycia) and eerie rock-cut tombs carved into the cliffs above.
Why Book This
A chance to combine history, archeology and snorkeling, this tour provides an intriguing perspective on Antalya's past. The striking ancient ruins of Kekova surrounded by beaches and nature are very memorable. And snorkeling above the partly submerged streets and buildings of the Sunken City is an ethereal experience.
I recommend booking with Myra Cruises. Their knowledgeable guides provide excellent commentary and they use glass-bottom boats, allowing everyone to see the Sunken City, even non-swimmers. Time at Kekova and the Sunken City are leisurely.
Scuba Diving Excursions
For certified divers, scuba diving day trips allow you to experience Antalya's spectacular underwater world of coral, fish and ancient relics. You can also book multi-day diving packages in Kaş and Kemer.
More information about scuba diving in Türkiye you can find here: Can You Go Scuba Diving in Turkey?
Where You'll Dive
Some of the top dive sites near Antalya include:
Lara Reef – Coral reef with schools of barracuda and tuna
Sarisu Cave – Cavern dive under a secluded beach cove
Phosphorous Cave – Cavern dive with amazing light reflections
Simena Sunken City – Ruins of a Lycian town sunk in the 2nd century
Çatı Bay – Wall dive along a drop-off with marine life
Fener Adası – Dive a WWII artillery boat wreck
Pasha Island – Advanced dive with strong currents, giant groupers
Why Book This
The Mediterranean waters off Antalya's coast offer amazing visibility for scuba diving. You'll be amazed by the colorful coral, sponges, and sea life like octopus, moray eels, and seahorses. Advanced divers can explore shipwrecks and challenging dive sites.
For high-quality gear and experienced divemasters, I highly recommend The Blue Planet dive center based in Kaş. They offer day trips and multi-day diving packages that include meals and transfers.
Booking Your Tour
Hopefully this guide has helped you choose the perfect boat tour for your interests and style. Here are a few final tips for booking your cruise:
For full day yacht and pirate cruises, summer is high season, so book several weeks in advance.
Check cancellation and rebooking policies before booking. Many require payment upfront.
Read reviews carefully and determine the maximum number of passengers. Smaller group sizes are ideal.
Consider private charters for a customized experience if your budget allows.
Avoid Mondays when some sites are closed and Saturdays when routes are busiest.
Bring motion sickness medication if prone to seasickness. Boats have basic medical kits onboard.
No matter which type of boat tour you choose, you'll make wonderful memories exploring Antalya's beautiful coastline from a unique vantage point at sea. Let the sailing adventures begin!