Planning a trip to Antalya and want to get your shop on? Or maybe you're a local looking to switch up your usual shopping routine. Whatever the case, you can find some fabulous shopping malls in Antalya where you can find everything from global fashion brands to handmade Turkish goods.
This guide will give you the inside scoop on the top malls and shopping areas in Antalya from a local's perspective. Get ready to shop till you drop!
MarkAntalya AVM – Mall with It All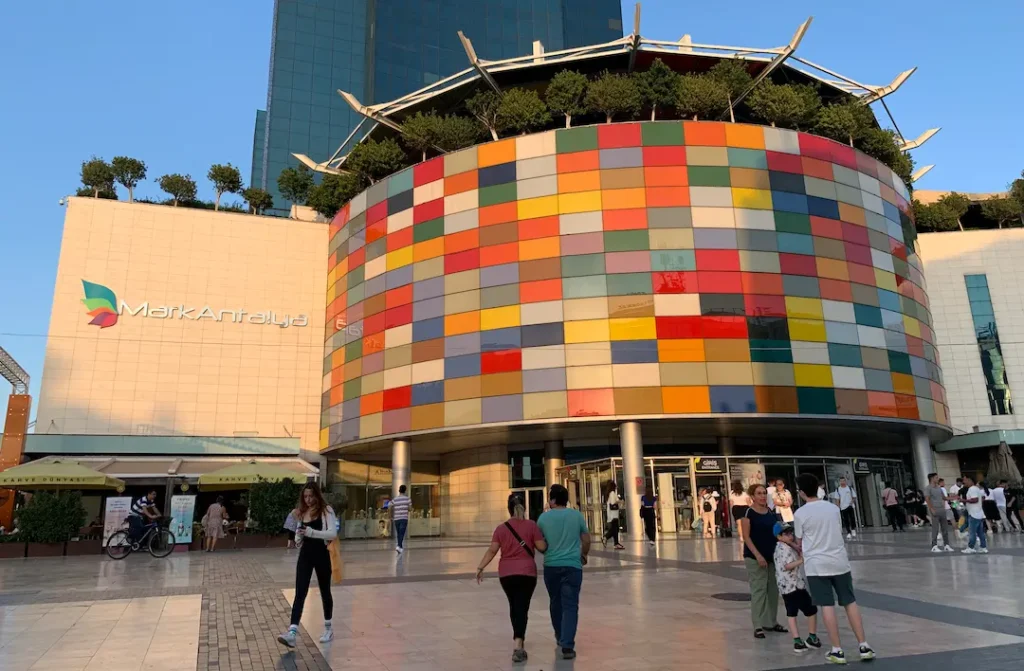 If you're looking for a massive mall with endless options, head to MarkAntalya AVM in the Lara neighborhood. This sprawling complex has over 350 different shops, so pace yourself!
All your favorite European high street brands like Zara, Mango, and LC Waikiki have stores here. You can also browse Turkish chains like Koton and Flo for of-the-moment fashion.
When it comes to food, the options are endless. Grab a coffee and pastry at Starbucks or have a proper meal in the expansive food court. There's everything from burger joints to kebab stalls to ice cream parlors. Refuel often to keep your energy up for marathon shopping sessions!
If you need a break from spending money, catch a movie in the mall's multiplex cinema or try your hand at bowling or arcade games. The little ones can expend some energy in the indoor playground area too.
Link to the MarkAntalya website: www.markantalya.com
Pro Tip: Come to MarkAntalya on weekends when it's liveliest and stay late to catch the musical fountain and light show that happens each evening. Also, don't forget to grab a mall map so you can navigate between the different zones and floors without getting lost!
TerraCity – Central Spot for Shoppers
For a more centrally located mall in Antalya, check out TerraCity in the Muratpaşa district. It's just a short walk from Konyaalti Beach and puts over 130 shops at your fingertips. TerraCity has all the staples like H&M, LC Waikiki, and Migros supermarket. It's a great spot to pick up beach essentials like sunscreen, sandals, and swimsuits.
Keep an eye out for shops selling Turkish delights, lamps, jewelry, and other local wares. The prices here are better than at stores aimed at tourists in the main old town bazaar area.
When your feet need a break, head up to the top floor cafe to enjoy a cold drink and take in the views over the city. Kids will enjoy burning off some energy in the indoor playground area as well.
Link to the TerraCity website: www.terracity.com.tr/
Insider Tip: Weekend crowds mean you'll have to battle for parking, so consider taking the bus to TerraCity on busy days. Also, be sure to check out the international food options in the mall's food court.
Antalya Migros AVM – Shop, Then Sightsee
For travelers staying in Antalya's historic center, Migros AVM is a convenient and low-key shopping spot. It's located in the Muratpaşa district, not far from the marina and iconic Yivli Minare mosque.
This mall is anchored by the Migros supermarket where you can stock up on snacks and essentials. There are also plenty of other shops to browse clothing, shoes, electronics, and more.
Compared to Antalya's other mammoth malls, Migros AVM offers a more relaxed local vibe. The stores cater mainly to residents versus tourists.
You can have a bite to eat in the food court, then walk over to visit the Roman ruins or stroll the Kaleiçi bazaar after your shopping excursion. It's the perfect pitstop between sightseeing!
Link to the Antalya Migros AVM website: www.antalyamigros.com
Tip: Migros AVM is rarely crowded, so it's a good option if you want to avoid hordes of shoppers. Be aware that store signage is mostly in Turkish.
Erasta AVM – High-End Haven
Erasta AVM is another large shopping mall in Antalya. It's a bit smaller than ÖzdilekPark Mall, but it still has a good selection of stores, restaurants, and entertainment options.
Some of the stores at Erasta AVM include LC Waikiki, Koton, and Deichmann. There's also a food court with over 15 restaurants, a cinema, and game arcade.
Erasta AVM is open from 10:00 AM to 10:00 PM every day. It's also easily accessible by car, bus, or taxi.
The main difference is that Erasta AVM is not another indoor mall, it has large umbrellas to provide shade for the visitors, and the cool breeze makes it a pleasant shopping experience
Link to the Erasta AVM website: www.erastaantalya.com
Tip: Erasta AVM is easily to travel to from Antalya Mall. Just hop on the tram and you will be at the Erasta AVM in no-time.
ÖzdilekPark – Best of the shopping malls in Antalya!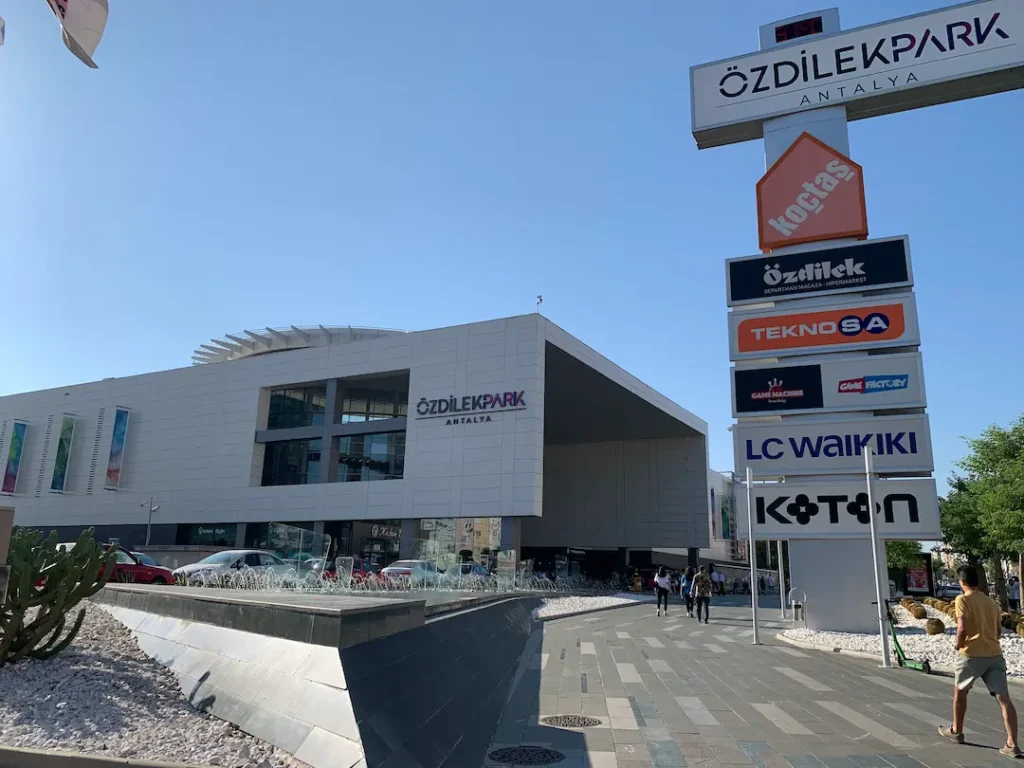 ÖzdilekPark Mall is a large shopping mall in Antalya, Turkey. It has over 100 stores, including international brands like Zara, H&M, and Mango. There's also a food court with over 30 restaurants, a cinema, bowling alley, and game arcade.
When you're shopped out, let kids enjoy the indoor and outdoor playgrounds and game arcades. Catch a film in the multiplex cinema or just relax outdoors in the sun. But be warned – weekends draw enormous crowds to ÖzdilekPark, so weekdays are best if you want to avoid hordes of shoppers.
What we enjoy about the ÖzdilekPark Mall is that it is not a mall from the same cookie cutter, but it has its own style, and different shops then that you can find in other malls in Antalya.
For us the ÖzdilekPark Mall is a definite winner, due to the variety of shops, and the calm atmosphere at the mall. A big plus is also that its easily accessible by metro!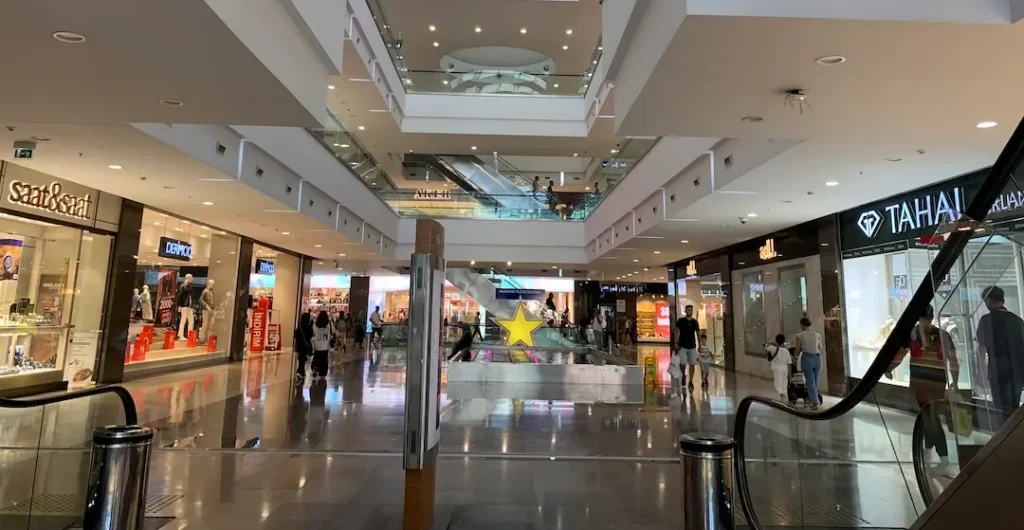 The mall is open from 10:00 AM to 10:00 PM every day. It's easily accessible by tram, car, bus, or taxi. The nearest bus stop is located just outside the mall, and there's also a large parking lot with over 2,000 spaces.
Link to the ÖzdilekPark website: www.ozdilekparkantalya.com.tr
Tip: Check the mall map posted around the complex so you don't miss out on any areas of this massively large mall. Split up and agree on a meeting point later so everyone gets to shop their favorite stores.
Get Ready to Shop Antalya!
As you can see, Antalya offers endless shopping opportunities in its many malls and markets. From budget-friendly chains to luxury designers, you're sure to find souvenirs for loved ones and treats for yourself.
Be sure to get your souvenirs before heading back to the Antalya International Airport for your flight home. The malls in Antalya are a great way to safe on clothing, but also on souvenirs for friends and family back home!
Just be ready to deal with weekend crowds if you go to the biggest complexes like MarkAntalya and ÖzdilekPark. For a more relaxing local shopping experience, try smaller malls like TerraCity or Migros AVM. Whatever you choose, get ready to shop till you drop in Antalya!