In Turkey, where East meets West, there is a lot of variety in the way people are dressed. Especially if you will be traveling through Turkey you will notice that city people dress according to modern western trends, while in the villages dress tends to be more traditional. How come there is such a difference?
Turkey is a large and diverse country, with a multitude of different dress traditions, from ancient Ottoman up through the modern shopping mall styles, and many in between. Turkey also has its own home-grown fashion industry which is based on modernist Islam.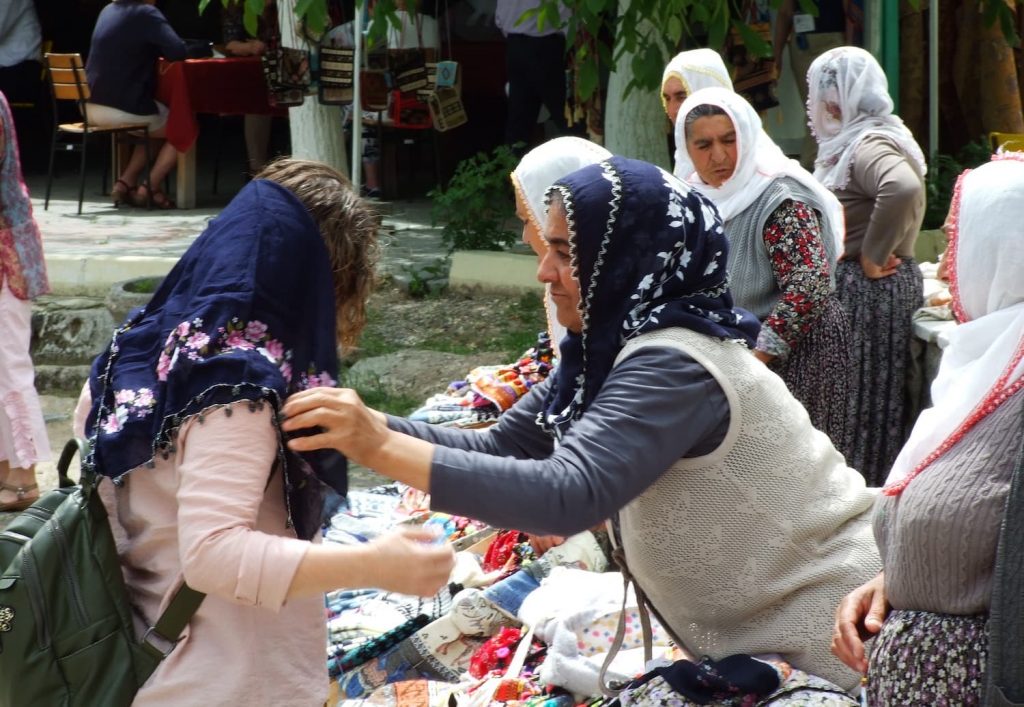 For anyone interested in fashion and clothing styles, Turkey can be a rich example of the way traditional clothing styles evolve, and also how the political landscape can influence what people do and don't wear. In some ceremonies like weddings or circumcisions, traditional Ottoman style dress may even still be seen in today's Turkey.
What people in Turkey wear now, and how to dress appropriately?
The fashion of a modern Turkish city is similar to that of Europe, with the prevalent styles being jeans, sweaters, athletic shoes, or business suits for men. Women also wear jeans or dresses, or business suits. Istanbul and Izmir are the most liberal in their dress, especially when it comes to women.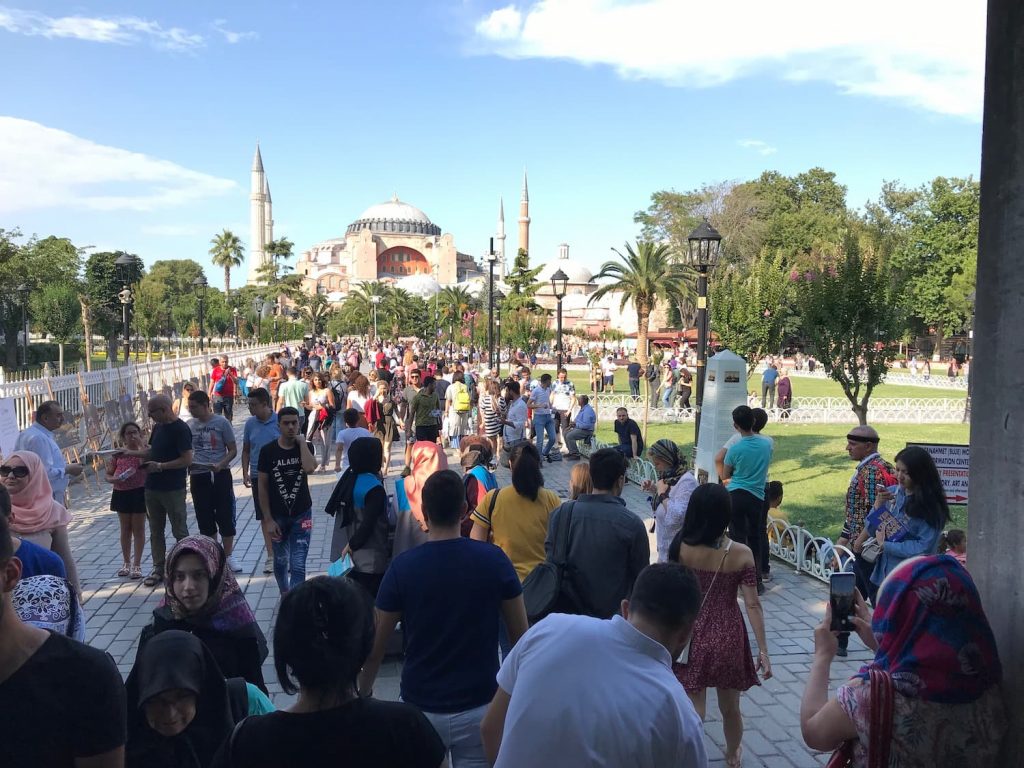 While in Izmir you might see miniskirts and tank tops, somewhere farther to the east like Afyon women will almost always be covered in full-length overcoats and head scarfs. 
If you travel to Antalya, it is common for women to wear bikinis at the beach, and men to wear board shorts. This sort of dichotomy can be confusing to some visitors of Turkey and decided what is appropriate to wear may not be obvious.
If you are a tourist in Turkey, your dress should reflect the city in which you are visiting. If you plan to go into any mosques, men will be required to wear long pants and women will be required to cover their hair.
If you are traveling anywhere outside of Istanbul, it is advisable for women to wear shorts or skirts at least knee-length, with respect for the tradition of the country. Do not wear flip-flops your toes will get crushed in the busy streets and most pedestrian ways are not evenly surfaced!
At the beach, it is of course acceptable to wear bathing suits but do cover up when leaving to go to a restaurant or shop. Most public beaches in Turkey have changing rooms for public use.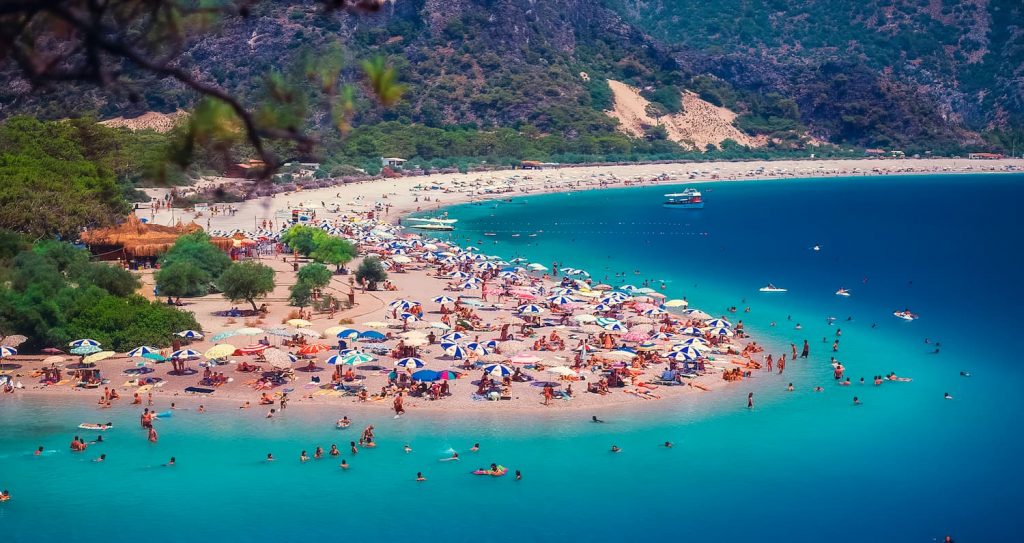 Costumes and Traditional Dress for Ceremonies
While shopping, you may come across what looks like a fancy costume store. Smaller outfits with beaded crowns and white satin capes are for boy's circumcision, a traditional ceremony held somewhere around the age of 8-10.
Red velvet ensembles may be a women's wedding costume. The main items of a woman's attire were baggy trousers or salwar, a jacket, a blouse, a robe called entari, and a kaftan. In today's Turkey, most Turkish brides wear a white wedding gown, but the traditional dress may be used for another part of the ceremony like the Henna Night. 
A question that often comes up: whatever happened to those red hats people used to wear? Those hats were called fes and yes, people did wear them up until 1925 when they were banned in Turkey as part of a modernizing effort. This ban applied to all hats for men and had a long-lasting effect which can still be seen today with most men not wearing hats except on very cold winter days.
Shopping and the Rise of E-Commerce
Turkey has luxurious shopping malls with all of the European chain brands like H&M or Zara. Interestingly, within just a few blocks you may also find a tailer making custom clothes, a few small shops selling export overflow clothing, and a dizzying array of real and fake shoes from every major brand. Clothing is inexpensive in Turkey and is a large export for the country.
In recent years, the growth of online shopping in Turkey has been exponential, and now the biggest market for shoes, hats, accessories, handbags, and almost every dress category is online with large companies like Trendyol, Hepsiburada, and AliExpress. 
Turkey's fashion industry and Islam
For all of Turkey's modernism, there is still a strong base of Islam prevailing within the culture, and as such the Turkish dress style continues to reflect these principles. Primarily for women, with long overcoats and headscarves being the most common dress, a concerted effort has been made to make these understated garments a bit chicer.
Stylish Islamic wear for women is an ever-growing industry in Turkey, where design and production both take place, and many clothes are exported to the Muslim world. The styles of Turkey have also been spread widely by the popularity of sitcoms, which are often dubbed and aired around the world especially in Argentina and Brazil.