The past few months were hard living in Turkey, and especially in Istanbul with the lockdown rules for those living in Turkey. We are happy to see that the lockdown restrictions are slowly being removed, it's almost back to the new "Normal".
At the moment, on June 3rd, we still have a daily lockdown in place from 10 PM – 5 AM plus all day Sundays. This does not restrict persons on a tourist visa to travel, but it means that places are closed during the lockdown. Restaurants are open again with some restrictions. Masks are still mandatory in most places!
Although vaccination is going well throughout Turkey, now age 50 and above, there are still many cases of Covid-19. Istanbul especially is still hit hard with the virus. And here we see that many persons are still careful in wearing their masks and trying to avoid people. As far as that is possible in a huge city like Istanbul.
Last two weeks we were able to travel outside Istanbul and could see how people were dealing with it in the more touristic areas. To stay safe we did travel by renting a car, instead of public transportation, but once we were outside the city, the atmosphere under the locals was a lot more relaxed. 
In the villages around the coastline, many responded as if there was no Covid! Of course, we recommend staying as safe as possible even traveling through less populated areas. 
Current curfew hours: weekdays from 9PM until 5AM and from Saturday 9PM until Monday 5AM, which basically covers the Sunday. Local shopping is allowed during the lockdown. Curfew as discussed does not apply to tourists. All musea and tourist locations outside the major cities are open to visit again.
How Does the Lockdown in Turkey Affect the Tourists?
Tourists are still exempt from the lockdown. This means that you are free to travel at any time and to any place you wish. But because the locals have to follow the lockdown, most places are closed during the lockdown hours. 
This means at the moment that on Sunday "everything" is closed. With everything, we mean all non-essential shops, activities, places, museums, etc. Still, the bakery, butcher, supermarket, restaurants (delivery), etc. are open. And you will see many people outside who take the opportunity to have a walk and get something essential. 
With the change of curfew hours the government also allowed restaurants, cafes and other places that serve food or drinks to open, although some restrictions stay in place.
The restaurants can now open and serve customers from 7AM until 9PM. This means they can serve sit-in customers though-out the day. So you are able to go for breakfast, lunch and diner to your favorite place. Or discover new restaurants on the go!
After 9PM until midnight, and on Sundays, restaurants are allowed to continue to provide delivery service.
Still, there are some restrictions when visiting a restaurant, like having a maximum of 2 persons at an indoor table and 3 at an outdoor table. But you will notice that they will not give you a hard time if you are a family of 4 or more and want to sit together.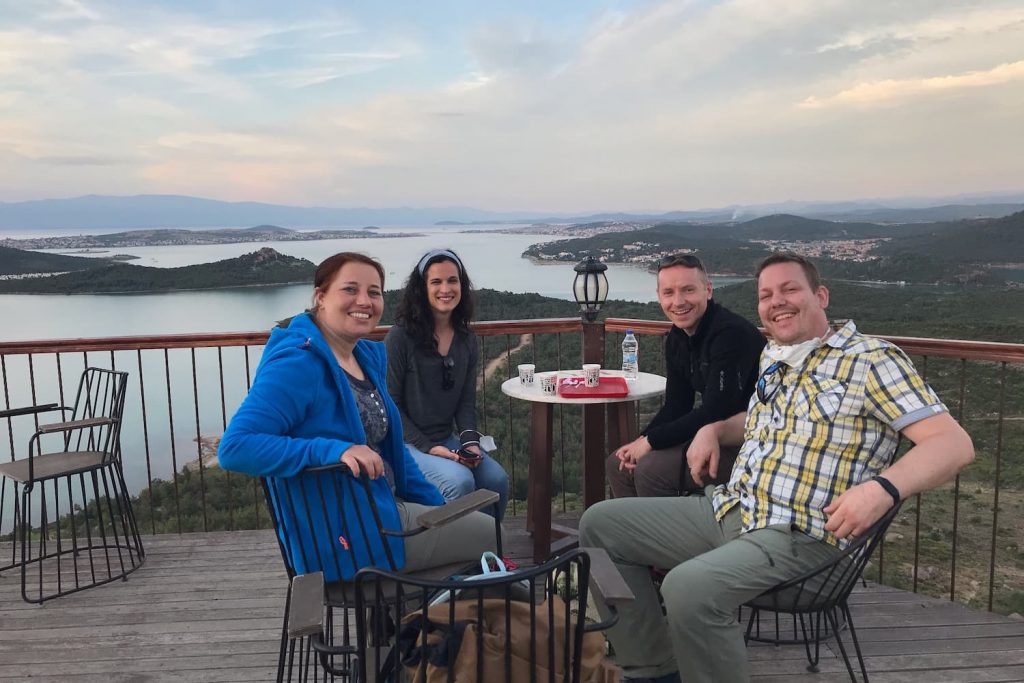 With all that said, Turkey is opening up more and more to make sure that in the Summer of 2021 they can welcome as many tourists as possible while reducing the number of Covid-19 patients in the country. 
Since Turkey heavily relies on tourism as a source of income for many, the restrictions for the tourist sector will probably be eased faster than the rest of the lockdown restrictions.
Inter-city travel was also banned during the full lockdown in Turkey. But at the moment this has been made available again. Especially for visiting tourists there are no restrictions regarding time or way of traveling though Turkey. But keep in mind that during the curfew hours local Turkish people are not allowed to travel inter-city on Sundays, so it might be difficult to get a bus or train on Sunday.
Another point to keep in mind when traveling to Turkey as a tourist is that you are still required to obtain a HES code. You need the HES code to get access to all public facilities, transportation, and sometimes even to the larger supermarkets.   
It is not difficult to obtain a HES code, we are explaining how to get the HES code in this article: Do I Need a HES Code as a Tourist in Turkey? It not only gives you the answer to that question but also explains in detail with pictures how to obtain the HES code. 
And if you want to use public transportation to travel through Istanbul with the IstanbulKart, don't forget to connect your new HES code to your IstanbulKart. You can find the detailed instructions on how to do that here in the article: How to Connect Your IstanbulKart to Your Hes Code?
How Is the Lockdown in Turkey Affecting Pamukkale?
After contacting the T.C Kultur ve Tourism department in Turkey, we found out that almost all museums are open for visiting, 7 days a week. 
Regarding Pamukkale, the Hierapolis Archaeological Site is open from 8 AM until 8 PM, 7 days a week. And in case you are wondering, the entrance fee is still 110 TL.  
How Is the Lockdown in Turkey Affecting Cappadocia?
The biggest part of Cappadocia is the beautiful natural landscape, and since tourists are not affected by the lockdown you can visit the natural sites every day, all day round.  
But if you want to visit the Kaymakli Underground City, you are tied to the opening hours of the site and the restrictions they have to follow. After calling the department in Turkey that is responsible for the Museums, we found out that the Kaymakli Underground City is open 7 days a week from 9 AM until 6 PM. 
Are the Hot Air Balloons Flying in Cappadocia in 2021?
After calling some tour agencies in Gureme, we found out dat since the beginning of June all hot air balloon flights above Cappadocia are operational again. They are offering three different times to fly the hot air balloons and depending on the weather they are all taking off.
Morning 15 before sunrise is the first available balloon flight. Second available time is about 2h later, as they are returning from the landing point back to the takeoff point. Or you could choose for the afternoon flight.
All flights seem to have the same pricing, around $120-170, depending on the tour agency or balloon flight operator. Would you like to discover other places by hot air balloon? Check out our blog about the best places for hot air balloon flights in Turkey!
How Is the Lockdown in Turkey Affecting Ephesus?
As with many things in Turkey, the websites are not always kept up to date. So to make sure that the Ephesus Archaeological Site is open for tourists, we made a phone call to their office to check the current status of the site. 
They told us that at the moment, and we're not sure that it will stay that way all summer, the Ephesus archaeological site is open 7 days a week. So the current lockdown is not affecting the opening times of the site. 
The site is opening up at 9 AM and is open until 6:30 PM. No restrictions are in place for this site other than the requirement to wear a mask at all times. 
What Is the Safe Tourism Certification Program in Turkey?
Turkey is doing to provide a virus free and healthy tourism program. They have started the Safe Tourism Certification Program to make this happen. This program is to revive the tourism sector in the country, and to make sure they are ready to welcome visitors from all over the world and to make them feel relatively safe.
Taking the lead in this program is the Culture and Tourism Ministry, but it is cooperating with a few other ministries, one being the Health Ministry. Together they are taking measures at airports, hotels, touristic establishments and even in transport facilities though-out the country.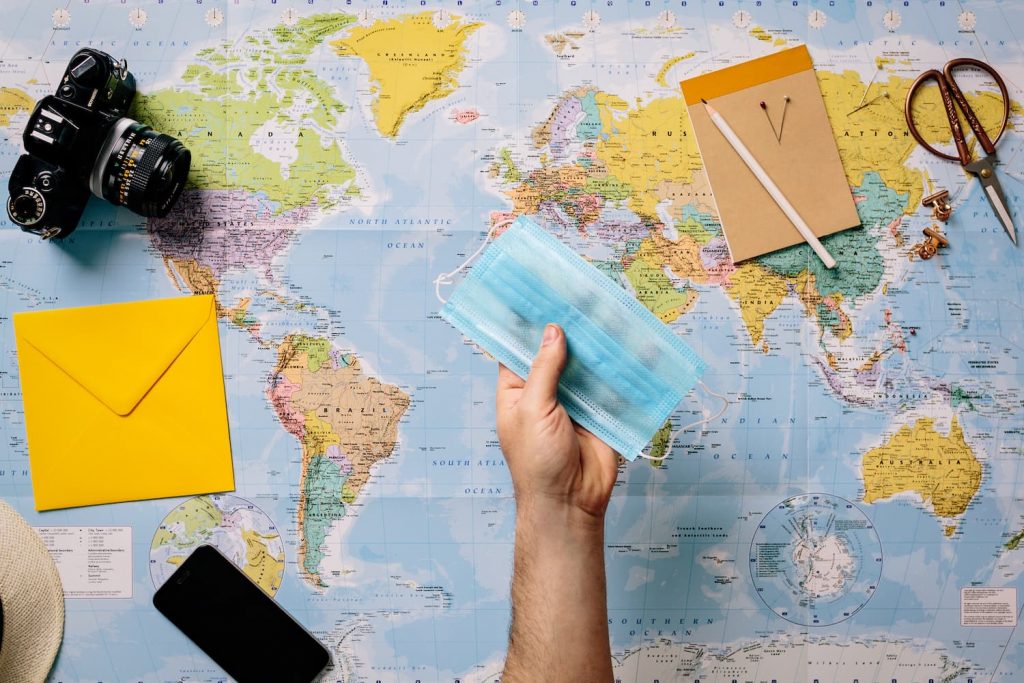 This certification is required for all hotels, resorts and facilities with more than 30 rooms. The certification is only given when a facility follows all the rules regarding health and hygiene that are put in place and that are determined in accordance with international standards. Inspections are regularly repeated and recorded in order to guarantee and safeguard the standard in all facilities.
If a facility has less than the 30 rooms, they can volunteer to be part of the Safe Tourism Certification Program, and they will be able to receive the same certification after receiving an inspection. All inspections are being carried out by authorized audit firms.
What will you notice as a tourist of this Safe Tourism Certification Program?
As everywhere in Turkey, you will be required to wear your mask in the pick-up transportation, and at the check-in. And most hotels require that in all public places a mask should be worn. Also you will notice the 1,5m distance marks on the floor to remind all guests to keep distance from each other and from the staff.
During check-in you will probably be handed a printed sheet with local COVID-19 information and hygiene precautions, practices and the rules that you as a guest have to follow in the facility.
Also every time you will enter the facility your body temperature should be measured and recorded. This could be done by a thermal camera, in the high end facilities, or by a contactless thermometer.
On your hotel room most likely you will find disposable cups, plates, and cutlery. And a lot of notifications that each individual item has been sanitized for you!
Yes, all facilities do their best to keep in line with this program and to adhere to the regulations. This all to give you a virus free and healthy vacation!
Do I Need a Negative Pcr Test to Enter Turkey?
If you have been vaccinated at least 14 days before entering Turkey and can submit an official document stating his vaccination, you do not need a negative PCR test to enter Turkey. If you have not been vaccinated, a negative PCR test no older than 72 hours or a negative rapid antigen test no older than 48h before entering Turkey is needed.
Do I Need to Show a Negative Pcr Test Before Entering Turkey?
If you are coming from Afghanistan, Bangladesh, Brazil, South Africa, India, Nepal, Pakistan, Sri Lanka or you have visited these countries in the past 14 days you will be required to show a negative PCR test no older then 72 hours and you will be quarantined for 14 days in a place determined by the Turkish government.
If you are coming from United Kingdom, Egypt, Singapore, and/or Iran you will be required to show a negative PCR test no older than 72 hours before entering Turkey.
All other counties not specifically mentioned above are free to enter if they can provide an official document stating that they have been vaccinated at least 14 days before entrance into Turkey. If a person has not been vaccinated, he can enter into Turkey with a negative PCR test not older than 72h or a negative rapid antigen test not older than 48h before entering Turkey.
Do I Need to Be in Quarantine When Entering Turkey?
If you are coming from Afghanistan, South Africa, India, Nepal, Pakistan, Bangladesh, Brazil, Sri Lanka or you have visited these countries in the past 14 days you will be required to show a negative PCR test no older then 72 hours and you will be quarantined for 14 days in a place determined by the Turkish government.
Do I Need to Fill Out the Form for Entry to Turkey?
A Form for Entry to Turkey needs to be filled out within the last 72h before traveling. But this form is free to fill out! You will need to provide your personal details, the places you are intended to stay, and a way to contact you in case you came in contact with anyone having Covid-19 on your flight!
Some websites offer this for a fee, but although the form is manditory, it's is being provide for free by the Turkish government on https://register.health.gov.tr/. During the last year we also noticed that when you don't have this form printed before, you are able to fill it out during your flight. But of course its better to be prepared and have it done in advance to prevent any problems at the airport.