Starting on Jan 15, 2021, all passengers using public transportation will need to have their HES code connected to their Istanbul Kart. This is to prevent persons who are currently a risk factor to be able to travel using public transportation, to reduce the number of Covid-19 infections. 
To connect your Istanbul Kart to your HES code you first need to get a HES code, and second you need to connect the code to your personal Istanbul Kart on this website that has been setup for this. At the moment this is only in Turkish, please see the pictures below for help in how to fill this out. 
We want to help you step by step to walk through this process. Since we also travel from time to time by the Istanbul Metro, although at this moment we try to avoid crowds as much as possible, we had to connect our Istanbul Kart to our HES code. 
You need to do this also before you can take the public transportation between the Istanbul New Airport and the city Center. More details on which bus you can take you can find in this article.
We thought this would be possible though the App "Hayat Eve Sığar", but sadly this is not possible. To connect the IstanbulKart to your HES code you will need to visit the following website:
https://kisisellestirme.istanbulkart.istanbul
Before you try to fill out this page, please make sure you read the rest of this article to collect everything you need before you start. 
What do you need to connect your IstanbulKart to your HES code?
If you are a tourist, please have the following items ready:
Your Passport
An IstanbulKart (only you will be able to use this one)
Your HES code
If you live in Turkey, and you have an Ikamet or are a Turkish citizen you need the following items:
Your Turkish resident number or your Ikamet number starting with 99, 98 or 97
Your IstanbulKart 
Your Turkish phone number
Your HES code
If you don't have an IstanbulKart yet, you can find more information on how to get an IstanbulKart here.
Ok, so let's start connecting our HES code to our IstanbulKart.
First open the page https://kisisellestirme.istanbulkart.istanbul. Right away you will see the form that you have to fill out. You can do this without a resident's card and without a phone number if you are not living in Turkey. 
As a tourist you will have to fill out the details in the form below:
You will get an OK message once this is processed.
For Turkish citizens you will have to fill out the details in the form as shown below:
You will have to confirm your phone number after you click save.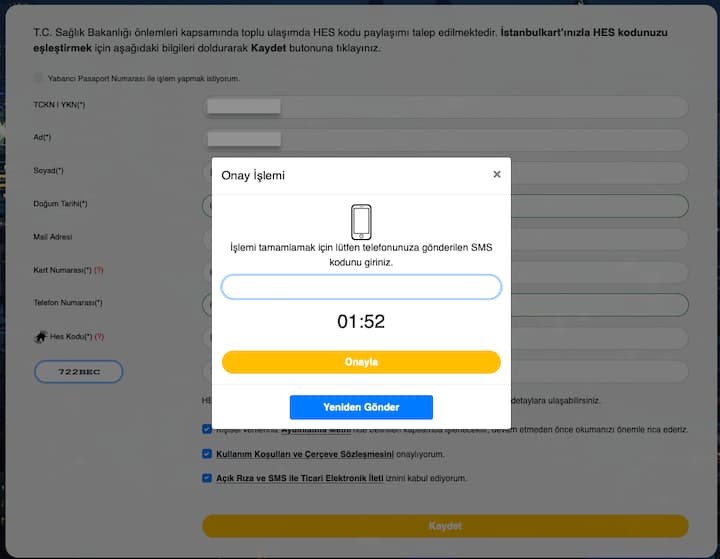 After you have confirmed the code that you have received on your phone the connection between your HES code and your IstanbulKart is made.
Getting your HES code connected to your IstanbulKart is that easy if all goes well. Sadly, this is not always the case, and we have written down some errors that might occur and what you can do about it.
I get the message "Identity Information does not match with the HES Code information" what should I do?
You should get in touch with the Nüfus Müdürlüğüne in your area to get this sorted. There might be a mistake in your information in the file they are checking your HES code with. 
How do I get a HES code? 
You will need to download an App and fill out your details or send a message to 2023. For more details see our article about the HES code.
Why would I need to connect my IstanbulKart to my HES code?
The government wants to restrict persons from using public transportation who are marked as risk for Covid-19 in the HES app. These persons have been in contact with, or are infected themselves with the Covid-19 virus.
Can we travel with 2 people on one IstanbulKart?
From 15 Jan, 2021 everyone needs to connect his personal HES code to his IstanbulKart. Therefore it is no longer possible to use your IstanbulKart for multiple persons. Children under the age of 6 years do not need an IstanbulKart and can travel for free with their parents.